Vodafone UK has announced a five-year sponsorship of the Mobile Phone Museum, an online museum launching in November 2021, dedicated to showcasing a complete history of mobile phone handsets to celebrate and safeguard key devices from the last 35 years.
The idea for the museum was born in 2004. But it was in 2019, when creator Ben Wood joined forces with fellow mobile industry veteran Matt Chatterley, that the vision started to gather real pace, with the co-founders leveraging their industry connections to add rare and iconic devices to the collection.
Today, the Mobile Phone Museum has more than 2,000 individual devices from the dawn of the mobile era to the present day. It is a fascinating journey of mobile phone technology through the ages – from the very first "portable" handsets to the latest smartphone models.
The museum will launch online in November, with pop-up physical exhibitions planned in future to ensure the museum reaches as many people as possible.
Founder Ben Wood (Chief Analyst at CCS Insight), said:
"I've been collecting phones for more than 25 years. Over the last three decades the mobile phone has become part of the fabric of society and the design diversity, from early transportable phones to the latest smartphones with flexible displays, is something to behold.

"When the online museum launches later this year, we want it to be a rich learning resource and a way to inspire young people to go on to create incredible mobile innovations of their own in the future. We are delighted to welcome Vodafone as our first major sponsor to help bring the museum to a wider audience and ensure that more people have the chance to be amazed and inspired by these devices and the fascinating history of mobile communications."
The Mobile Phone Museum is a charitable company created to safeguard key mobile phones and related devices from the last 35 years, as well as develop an education programme to raise awareness of how mobile phones have evolved. It currently comprises over 2,000 unique devices from 200 manufacturers charting the evolution of mobile phones from 1984 to present day.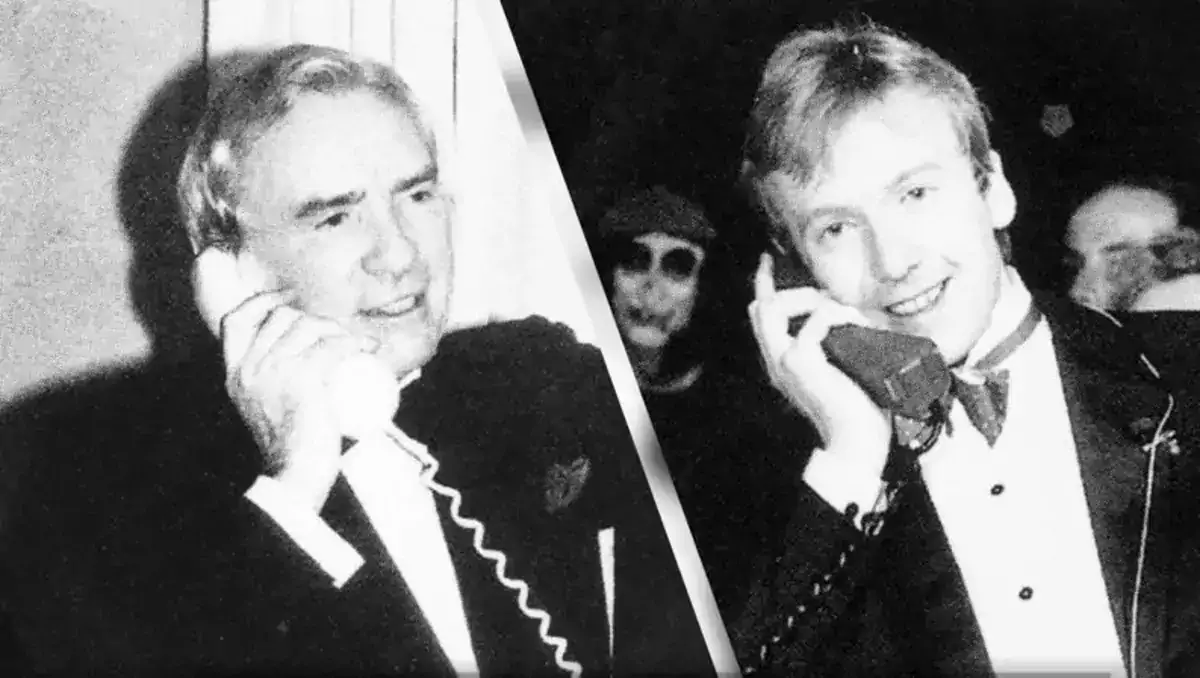 At just after midnight on 1 January 1985 in Parliament Square, London, Michael Harrison made the UK's first mobile phone call over Vodafone's cellular network. He called his father Sir Ernest Harrison, Vodafone's founder and first chairman, and said: "Happy New Year dad, it's Mike here. This is the first call ever made on a UK cellular network."
The phone Harrison used then – the Vodafone Transportable VT1 – was the size of a car battery and nearly as heavy, and mobile phones were primarily envisaged as being car-based tools for travelling sales people.
Margaret Thatcher was the British prime minister and Ronald Reagan was president across the Pond. Hairstyles involved industrial quantities of hairspray and Band Aid's "Do They Know It's Christmas?" was number one in the UK pop charts.
People used to communicate by writing letters, sending faxes, or chatting via fixed line telephones. It was a year that saw the introduction of compact discs (CDs) to replace tapes – music streaming was the stuff of science fiction – and the first commercial internet domain name registration.
Max Taylor, UK Consumer Director, Vodafone, said:
"More than 35 years ago, Vodafone made the UK's first mobile phone call on the Vodafone Transportable VT1, a handset which was the size of a car battery and weighed even more.

"Looking back at those early devices and everything which came later tells a fascinating story, not only of the technology itself and how it has evolved, but also of how we communicate."