Spanish football club FC Barcelona is entering the NFT space. Its first-ever NFT collection is a digital audio-visual artwork that recreates the moment when club legend Johan Cryuff scored an acrobatic goal against Atletico Madrid in December 1973.
Dubbed "In a Way, Immortal," the one-on-one animated edition NFT will be presented in a hybrid online-live auction at Sotheby's alongside four other NFTs that comprise still images from the animated version.
Sotheby's is regarded as the world's premier destination for art, luxury, and collectibles. It will be hosting a live auction at its New York auction house, ending on July 29th at 13:00 EDT.
The high-end piece, titled In a Way, Immortal -inspired by a quote of Johan Cruyff- was produced by the Club in collaboration with BCN Visuals, a strategic innovation partner and Digital Superstudio that developed the NFT's cinematographic aesthetic.
The project was made possible with the involvement of the World of Johan Cruyff.
The NFT was partly designed by a high-quality Hollywood team consisting of over 40 experts in computer graphics and visual effects, and it took over 10,000 production hours to complete the masterpiece.
Speaking on the unique project, Jordi Cruyff, son of Johan Cruyff, said:
The NFT In a Way, Immortal will be forever linked to my father's legacy. He would have been fascinated to see that one of his most beautiful goals with FC Barcelona has been the inspiration to create this unique piece of digital art.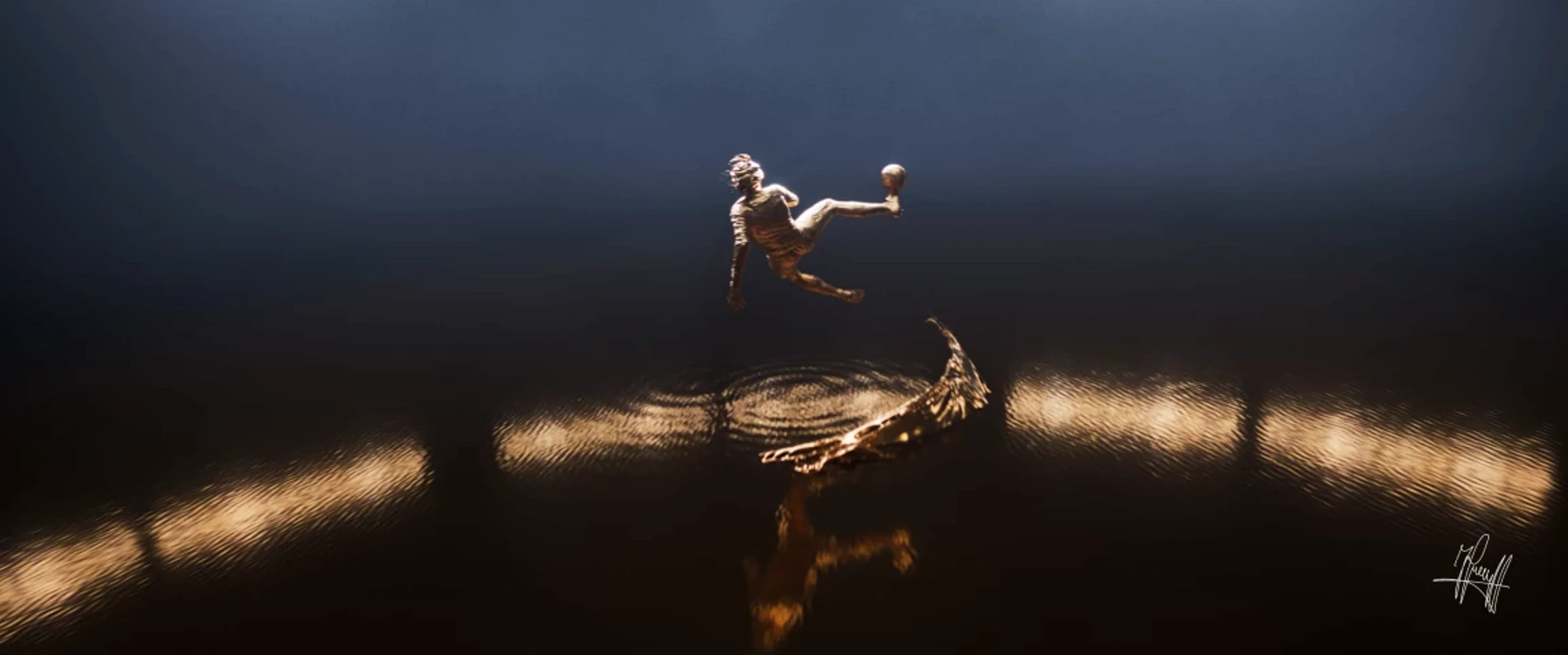 In a Way, Immortal is the first NFT in a collection of ten works that will be presented piece-by-piece over the coming months, with each featuring iconic FC Barcelona moments and characters amplifying the Club's legacy and historical heritage.
The collection is part of the Club's clear strategic commitment to adopting technology and innovation, and in turn, create unforgettable cultural moments -from the past and present- with the aim of both educating and inspiring its millennial, xennial and generation Z supporters, among others.
In addition to fostering loyalty among a younger audience, one of the project's goals is to redefine NFTs by creating a premium experiential product into a cinematic experience.
The future owner of this NFT, who will be called Barça Digital Ambassador, will also be able to enjoy unique Club-based benefits and experiences such as access to training sessions. 
In a Way, Immortal retells Johan Cruyff's legendary goal in poetic molten gold animation that was created by a 40-strong team of Hollywood's most talented computer graphics (CG) and visual effects (VFX) artists.
The 40-second film is accompanied by an original soundtrack played by a 30-piece orchestra, incorporating real sounds from the Camp Nou stadium and FC Barcelona supporters.
The Hollywood CG and VFX team worked on all aspects of the production, from a digital sculpture of Johan Cruyff to the simulation of golden-coloured fluids, textures and shading, cutting-edge cinematography and camera work.
The production of Cruyff's digital sculpture required more than a thousand working hours and the overall production entailed a total of more than 10,000 production hours.
Eric Sas, Founder and Head of Innovation at BCN Visuals, commented: 
"NFTs have too quickly become associated with the explosion in demand for crypto, but with In a Way, Immortal we are bringing NFTs back into the realm of high art.

In contrast to the basic NFT GIF, this mini-movie is a genuine piece of renaissance digital art—almost a piece of marble chiselled by the most talented visual effects artists in Hollywood. This project aims to become the new benchmark for the next evolution of NFTs where new digital artworks are akin to the masterpieces of yesteryear."
100% Barça experiences for the owner of the NFT
In addition to being the sole owner of the NFT, the Barça Digital Ambassador will be able to enjoy a number of 'money can't buy' experiences.
FC Barcelona will incorporate in the NFT's smart contract a set of utilities such as Meet & Greets, visits to La Masia, hospitality rights (for a minimum of five years), the right to play at the Spotify Camp Nou and an official handover of the ball before some friendly match.
A Special Live Auction Event at Sotheby's
Bidding on In a Way, Immortal  is open online now, before it is sold in a live auction at Sotheby's New York on July 29.
The buyer will have the opportunity to pay in cryptocurrency (BTC, ETH, DOT or USDC) or fiat currency.
For interested bidders outside New York, online bidding will be available during the live auction.