Revuto, a Cordano-powered blockchain subscription start-up, is launching new NFTs that will enable holders to gain lifetime subscriptions to Netflix and Spotify.
The Croatian-based blockchain start-up confirmed ready plans to launch its first Revulution NFTs at noon CET on July 11. The limited-edition Revolution NFTs will go live on sale on Revuto's official website.
The drop will feature 10,000 NFT collections, giving holders a strong sense of subscription ownership. These NFTs will be accessible through credit cards, debit cards, or cryptocurrency at the floor price of $349.
Commenting about the NFT launch, Vedran Vukman, the CEO and Co-founder of Revuto, stated:
"Based on the feedback we received from our more than 350,000 active and verified users, we have decided to give the community exactly what they have asked for – a solution that guarantees a stable subscription fee that they can share with their friends or family members in a simple and straightforward way."

"Moreover, if they are not using the service, the users can get their money back or profit from selling the NFTs. We wish to enable everyone to efficiently manage their subscriptions and, eventually, to make the digital subscription market fairer and more equitable."
According to Revuto, the new NFT concept involves giving subscribers more control of their subscription payments. Under the new functionality, subscribers can block, snooze or approve the payment. Revuto now aims to leverage its functionality to revolutionize the subscription space.
Revulution NFTs
Since its inception, Revuto says it has been committed to revolutionizing the subscription payment industry. In that context, Revuto anticipates issuing new virtual debit cards to holders once they acquire Revolution NFTs.
The new virtual cards will allow holders to pay out their subscriptions on Netflix and Spotify. Once the holders sell their NFTs, Revuto will deactivate the previously issued digital debit card and provide the new owner with a new virtual card.
Beyond primary functions, Revulution NFTs will enable trading at the crypto exchanges, thus opening a new secondary market for digital subscriptions.
Expressing his anticipation for the new NFT project, Josipa Majić, the co-founder of Revuto, added: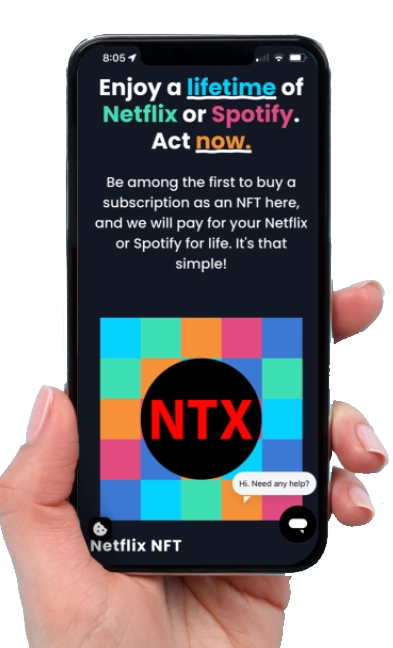 "Our Revulution NFT for Netflix or Spotify is just the start, and also an introduction to the subscription NFTs that people will be able to use to pay for any subscription in the world, for however long they want."

"I am immensely proud of the team behind this project, and we are all looking forward to everything that is coming in the future. We are confident the market and existing user base will once again react positively to what we have done."
Revuto will give holders an exclusive 5% discount for selecting their subscriptions. Holder will use their rewards to gift or sell them to other users.
According to Revuto, this is the first of its kind provision ever offered by a blockchain start-up.
The Cordano-powered blockchain subscription start-up has already received more than three million early sign-ups for the app, and over 350,000 active users are currently enjoying the service.