OPPO today launched Android 12 Beta 1 on its flagship smartphone – Find X3 Pro, making it one of the first handset makers to launch Android 12 Developer Preview Program at the Google I/O Developer Conference 2021.
This year, Android 12 focuses on system UI as well as security and privacy, which Oppo says will be the main principles for ColorOS as well. To help consumers better express themselves, OPPO is working to make ColorOS a more intuitive and a system that allows more personalisation's from users, especially in terms of UI and UX. The company is also making efforts to give users more control and transparency regarding data security and privacy.
"We are glad to have Google as a long-term partner as we have had successful collaborations over the years, including working together to guarantee ColorOS keeps up with the latest version of Android," Andy Wu, Vice President and President of Software Engineering Business Unit said.

"Currently we have close to 400 million monthly active users of ColorOS around the world. With Android 12, we will continue our momentum to provide developers and users the most vibrant experience."
Android 12 is designed to give users more transparency and control by allowing users to give only their approximate location to apps, block the use of camera and microphone in quick settings, and put inactive applications that have not been used for over 90 days in hibernation, and more.
Key updates on the user experience side include more compatibility with multimedia formats and support for more content insertion. The system has also been improved in UI details, featuring new functional bars and updated operating modes.
There is good news for gamers as well. In Android 12, apps are able to provide audio-coupled haptic feedback through the phone's vibrations.
Developers in Australia, New Zealand, Singapore, Chinese mainland and Taiwan markets are encouraged to download the latest system via the OPPO open platform starting from May 19. Developers should note that this is the early preview version for developers to do compatibility testing and early development, which will include bugs that may affect daily use.
We therefore do not recommend non-developers to try this update.
Oppo Find X3 Pro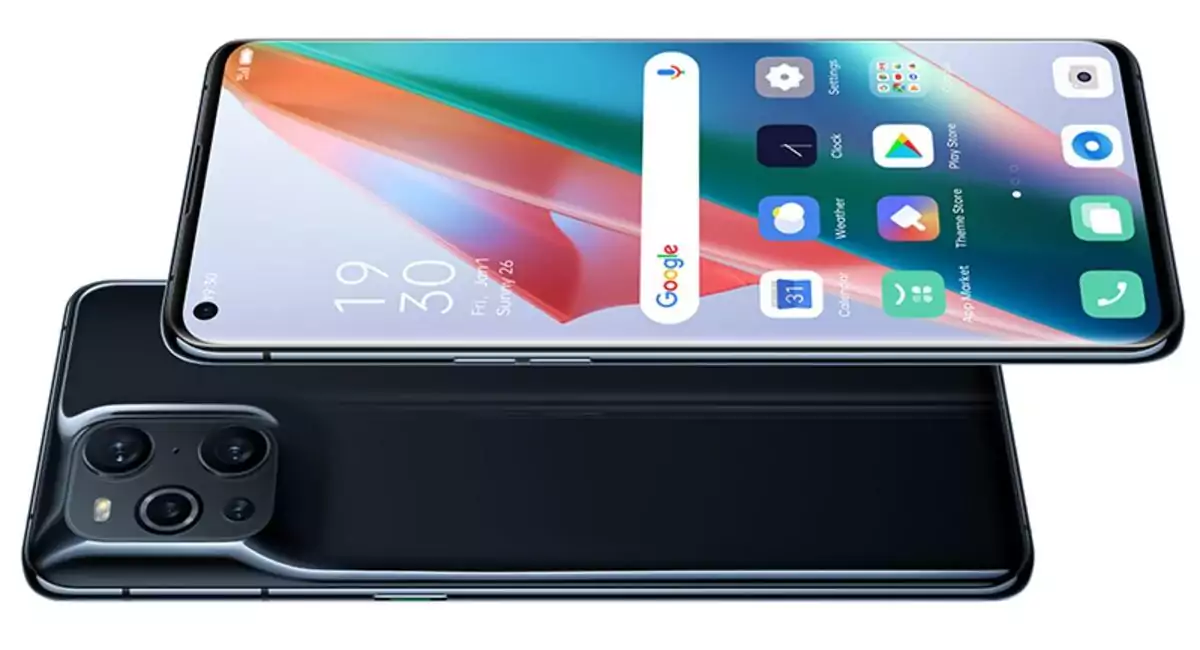 The OPPO Find X3 Pro is the first and only flagship smartphone to feature a true One Billion Colour display and One Billion Colour 50MP Dual Primary Cameras, offering a unique visual experience unparalleled on any smartphone.
Combined with a powerful Qualcomm Snapdragon 888 processor and 5G connectivity, EE customers can enjoy a next generation mobile experience when gaming, capturing content or viewing high-resolution video.
Multitasking is smoother than ever on the OPPO Find X3 Pro thanks to a 120Hz refresh rate, which allows for a faster and more accurate touch-response. OPPO Find X3 Pro also offers 65W SuperVOOC 2.0 Fast Charging.
OPPO Find X3 Pro also benefits from new photography features, including 64MP Rear Quad Cameras.
Oppo Find X3 Pro Specs
Oppo Find X3 Pro
Main camera resolution
50mp
Main camera aperture
f/1.8
Ultra-wide camera resolution
50mp
Telephoto lens
13mp
Front-facing camera
32mp
Video capture
4K
Processor
Qualcomm Snapdragon 888
Storage
256GB
RAM
12
Expandable storage
No
Battery
4,500 mAh
Fingerprint sensor
In-display
Connector
USB-C
Headphone jack
No
Special features
Microscope camera, IP68 waterproofing,
65W fast charging, 5G
Price (GBP)
£1,099