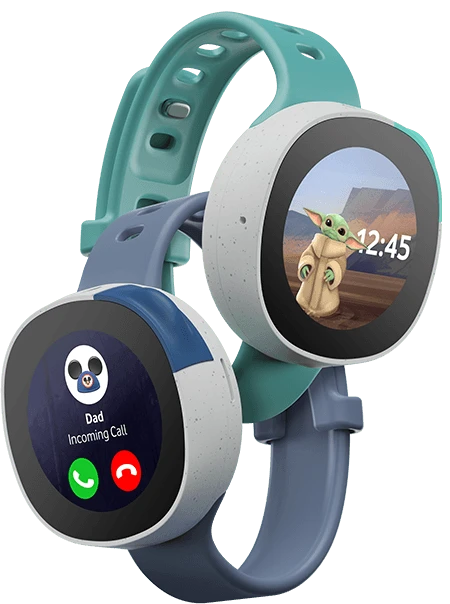 Neo Smartwatch for Kids
Back in December, Vodafone and Disney unveiled the Neo, a smartwatch for kids that gives them independence as they take their first steps into the digital world, but which also helps parents stay connected.
Neo is the latest product to join the 'Designed & Connected' by Vodafone range and is available to buy now from Vodafone.
Kids can personalise their Neo by choosing a theme based on 'sidekicks' – familiar characters such as Minnie Mouse, Elsa, Buzz Lightyear and Darth Vader. They can switch themes whenever they like and additional characters will be added over time. They can also take photos using the forward-facing camera.
Parents can use the Neo to stay connected with their children through calls, chat and video messages. Using the Vodafone Smart App, parents can manage screen time through Quiet Mode, view the Neo's location, and approve a list of trusted contacts.
The Neo is waterproof, withstanding immersion in fresh water at depths of a metre for up to 30 minutes, and its battery can last for approximately a whole day, based on normal usage. The new smartwatch is part of the 'Designed & Connected by Vodafone' range alongside the Curve IoT tracker.
Neo Features
A smart watch for kids that lets them stay in touch with calls and chat
Check Neo's location via the app
Fun for kids with a camera and activity tracker
Give them independence with a calendar and weather info
Personalise with characters from Disney, Pixar, Star Wars and Marvel
Create your own circle of contacts in the app and set parental controls
Durable with ergonomic angled strap
Built-in SIM card lets you stay in touch when you're apart
Max Taylor, Consumer Director, Vodafone UK, said: 
"Our commitment to connect our customers to the most important things in their lives runs through everything we do and what could be more important than staying in touch with our children. By bringing together our trusted network, the world's premier entertainment company and world-class product design, Neo will deliver the very best in connectivity, design and performance."
David Gandy stars in a new campaign to unveil Neo
For the campaign, Gandy – who has worked with some of the biggest names and brands in the world – was tasked with bringing to life how Neo empowers children to enjoy greater levels of independence while making sure parents and guardians stay connected with them.
Gandy's role in the campaign includes a 'behind the scenes' video in which the model is 'directed' by eight-year-old photographer, 'Lil' J-Peg', accompanied by an all-children production crew.
Commenting on the campaign, Gandy said:
"My daughter is growing up so quickly and as she gets older, I know she'll want to explore the world around her. As technology is rapidly advancing, this of course means it will become part of her life and I want to empower her to do so safely whilst still staying connected with her. It's therefore great to know I can look after her and also be a part of her journey. Neo is the perfect first step on a child's tech journey, allowing both parents and kids to have fun together whilst giving your little one independence and peace of mind to parents.''

"The photoshoot was a great example of how much fun kids can have when they're empowered to unlock their creativity  – it's certainly a job I'll never forget!"

The Neo costs £99 upfront with a £7 a month subscription on a 24-month plan, or a £12 a month subscription on a 12-month plan. You can buy the Neo now directly from Vodafone UK. Neo is available in two colours – Mint and Ocean.