Apple today unveiled HomePod mini in three new colours — yellow, orange, and blue. HomePod mini is designed to work with Apple Music, Apple Podcasts, thousands of radio stations and popular music services like Pandora, Deezer.
Apple Music offers more than 90 million songs, all curated by world-class experts and tastemakers; thousands of curated playlists, including hundreds created specifically for the new Apple Music Voice Plan; and more than 25,000 exclusive radio episodes and other original content.
The Apple HomePod mini is very similar in design and features to the Apple HomePod, simply smaller. It's 3.3 inches tall, just under half the height of the HomePod. It too is covered in a mesh fabric cover (either white or space grey) and has a cylindrical shape, although its modest dimensions make it more spherical.
A full-range driver and pair of passive radiators output, with an acoustic waveguide designed to direct the sound down and out toward the bottom of the speaker for a 360-degree soundfield – just like the HomePod's approach.

As you'd expect, the HomePod mini has been designed to work harmoniously within the Apple ecosystem. When a music-playing iPhone or iPad is brought close to the mini, they automatically hand off music to the speaker. Apple is promising to enhance this experience with visual, audible, and haptic effects when sound transfers from one device to the other.
When two minis are placed in the same room, they can automatically play in stereo pair, too. Lastly, the HomePod mini introduces a new 'intercom' feature, allowing family members to send messages between HomePods in the home as well as the iPhone, iPad, Apple Watch, AirPods and CarPlay.
Security and privacy are fundamental to the design of Apple hardware, software, and services. With HomePod mini, only after "Hey Siri" is recognized locally on the device, or the user activates Siri by touch, will any information be sent to Apple servers.
Requests are not associated with the user's Apple ID, and personal information is not sold to advertisers or other organizations. HomePod mini works with iPhone to complete requests for messages and notes on device without revealing that information to Apple.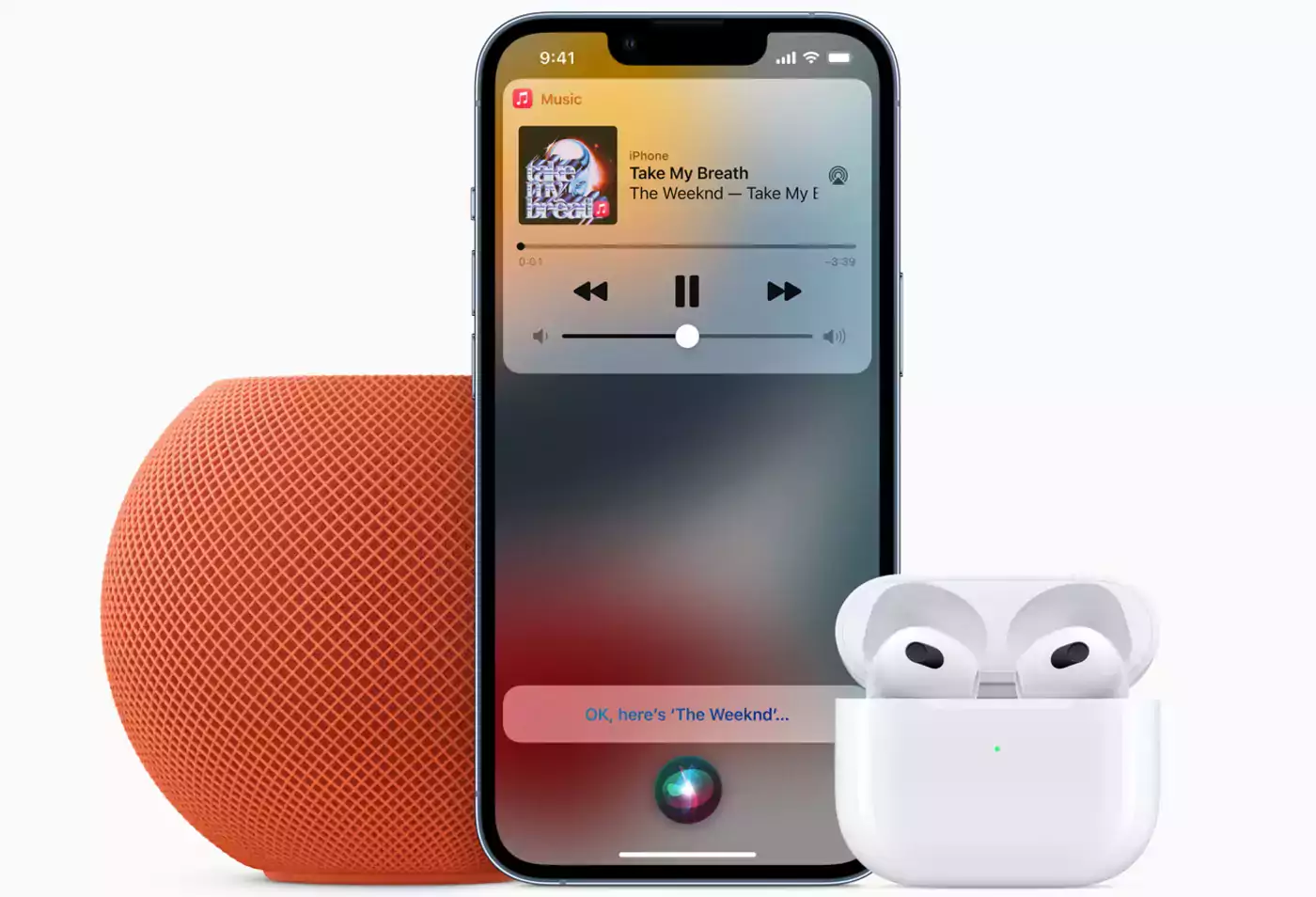 HomePod Mini Additional Features
Expanded multi-user voice recognition
Starting later this year, Siri is expanding support for multi-user voice recognition to all regions where HomePod mini is available so everyone in the home can enjoy music tailored to their taste profile, access their own playlists, use Personal Requests, and more.
Automatic Siri volume
Siri will also automatically adjust the speaking volume on HomePod mini based on the room environment and volume of the user.
More diverse voice options for Siri
Siri now includes more diverse voice options for English speakers in the US, so users can choose the voice that speaks to them right from the start when they set up their device. 
Elevate sound on Apple TV 4K
Users can pair HomePod mini to Apple TV 4K for a powerful sound experience with great range and high fidelity. Using computational audio, HomePod mini constantly analyzes the audio and models the performance to deliver crystal clear dialogue.
Apple TV controls
Together, Siri and HomePod mini power new ways for users to interact with Apple TV. For example, users can ask Siri to turn on Apple TV, start a show or movie, and control playback.
New ways to control smart home devices:
Siri can control smart home accessories at specific times, so Siri can turn off the lights in 10 minutes or turn on the porch lights at sunset.
Find My
Ask Siri on HomePod mini to help locate a misplaced iPhone, iPad, iPod touch, Mac, Apple Watch, or AirTag by playing a sound to pinpoint its location.
Fun sounds
Ask Siri on HomePod mini what various animals, instruments, or vehicles sound like and Siri will play a fun, high-fidelity sound. 
HomePod mini will be available in these new colours, along with white and space gray, with colour-matched details throughout, including the tinted touch surface, mesh fabric, volume icons, and woven power cable, starting in November for just £99.