Apple has released iOS 15.1 bringing SharePlay, Lossless Audio for HomePod, ProRes Video and a change to Macro Mode.
SharePlay is the major new addition, a way to share experiences in real time in FaceTime. It means when you're in a group FaceTime call, for instance, you can share an album or song via Apple Music to all the people on the call.
Others on the call can share their own audio. It works with video, too, and in apps like Apple TV, Disney+, Hulu and more. You can also share your screen with others,
Shared controls give everyone the ability to pause, play, rewind or fast-forward, while Smart volume automatically lowers the audio of a movie, TV show or song when your friends speak.
Apple TV supports the option to watch the shared video on your big screen while you continue the FaceTime call on iPhone and Screen sharing lets everyone on a FaceTime call look at photos, browse the web or help each other out
Lossless audio arrives for the HomePod, once you have upgraded to iOS 15.1 of course. Once upgraded, HomePodOS will receive an update.
ProRes video capture comes to iPhone 13 Pro and Pro Max, andthe Macro Mode for iPhone 13 Pro and Pro Max can be set so it doesn't automatically switch to the Ultra Wide camera when you get up close to your subject.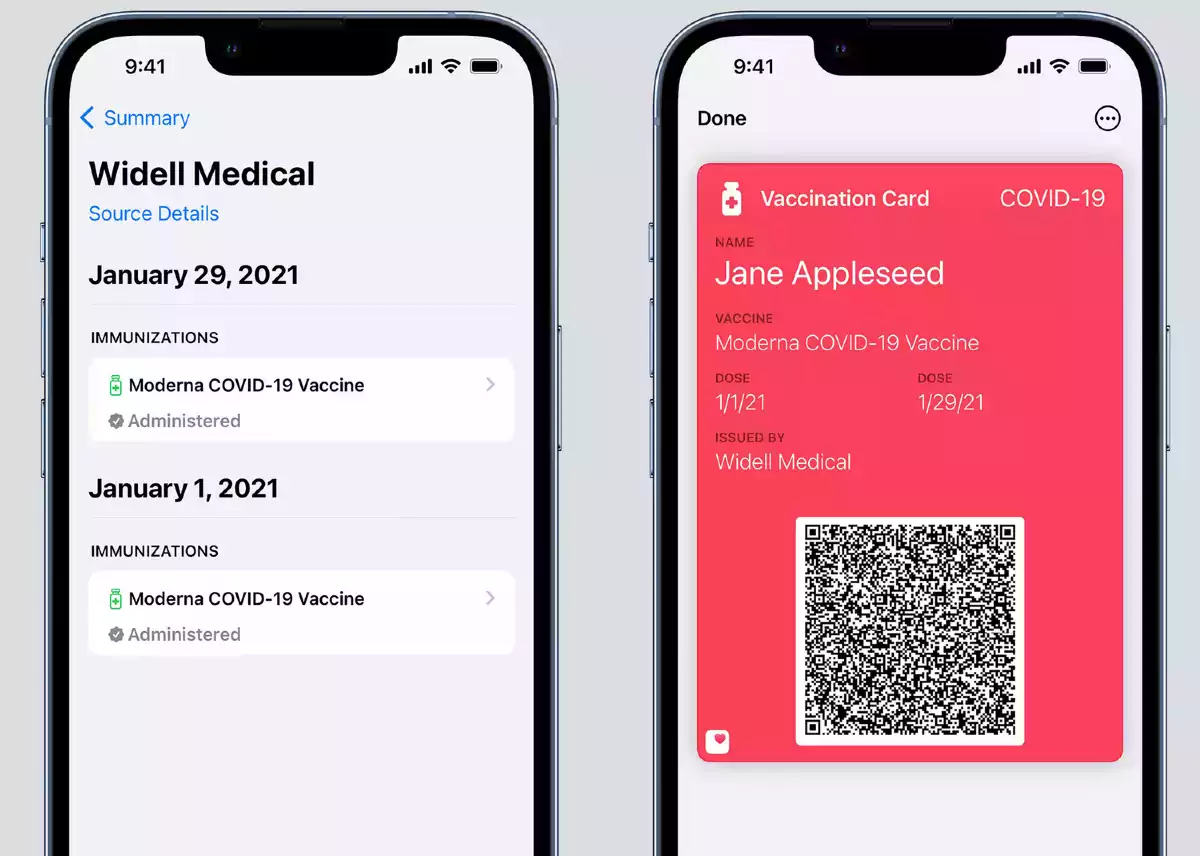 Covid-19 Vaccination card support comes to Apple Wallet. COVID-19 vaccination card support allows you to add and present verifiable vaccination information from Apple Wallet.
With iOS 15, users can download and store verifiable health records, including COVID-19 vaccinations and test results, in the Health app. Verifiable health records in the Health app are based on the SMART Health Cards specification.
Users can choose to share verifiable health records stored in the Health app with approved third-party apps requesting this information, like airlines, event venues, and other businesses that facilitate in-person interactions. With iOS 15.1 Beta 1, users can now also choose to add verifiable COVID-19 vaccination records as a vaccination card in Apple Wallet to present to businesses, venues, and more.
Organizations that issue SMART Health Cards will soon be able to use a new button to let users know that they can securely download and store their vaccination information in the Health app and quickly add and present it from Wallet. Artwork and usage guidelines will be available soon.
There's an update to Translate to offer support for Mandarin Chinese (Taiwan) translations. There are also fixes for issues such as the Photos app reporting storage as full when it's not, the Weather app will hopefully not show the wrong temperature for the current location and several other fixes.
Home brings new automation triggers based on the current reading of a HomeKit-enabled humidity, air quality or light level sensor.
Shortcuts gets new pre-built actions let you overlay text on images or gifs, plus a new collection of games lets you pass the time with Siri.
iOS 15.1 also fixes the following issues:
Photos app may incorrectly report storage is full when importing photos and videos
Weather app may not show current temperature for My Location and may display colours of animated backgrounds incorrectly
Audio playing from an app may pause when locking the screen
Wallet may unexpectedly quit when using VoiceOver with multiple passes
Available Wi-Fi networks may not be detected
Battery algorithms updated on iPhone 12 models to better estimate battery capacity over time
iOS 15.1 is now available to download on compatible iPhones. Compatibility for the phones reaches back as far as iPhone 6s, including iPhone SE first and current editions, plus the seventh-generation iPod touch.
The complete list is: iPhone 13, iPhone 13 mini, iPhone 13 Pro, iPhone 13 Pro Max, iPhone 12, iPhone 12 mini, iPhone 12 Pro, iPhone 12 Pro Max, Phone 11, iPhone 11 Pro, iPhone 11 Pro Max, iPhone XS, iPhone XS Max, iPhone XR, iPhone X, iPhone 8, iPhone 8 Plus, iPhone 7, iPhone 7 Plus, iPhone 6s, iPhone 6s Plus, iPhone SE (second generation) iPhone SE (first generation) and iPod seventh generation.
You can download the update by opening the Settings app and going to General > Software Update.