In September 2020, Microsoft unveiled the Azure for Operators initiative to help operators evolve their own networks, and for partners to assist enterprises to maximize their industry 4.0 opportunities.
In June of 2021, the company introduced a new category, Azure private multi-access edge compute (MEC), which empowers operators and system integrators to unlock the enterprise 5G opportunity. Today, the company has unveiled the next wave of Azure for Operators solutions and services.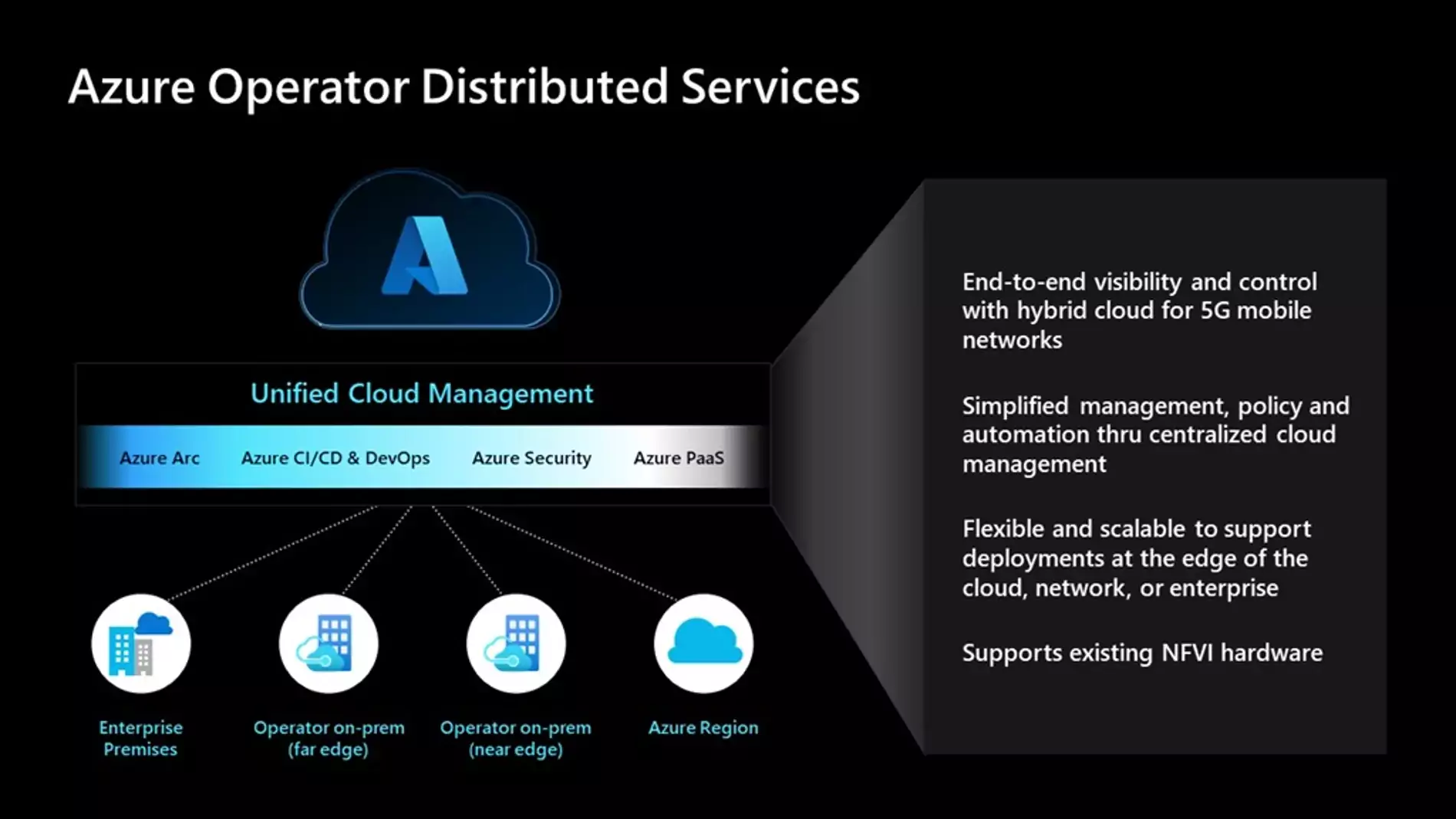 Azure Operator Distributed Services
In June 2021, Microsoft acquired the AT&T Network Cloud 2.7 Software technology, an industry-first collaboration. The AT&T Network Cloud supports AT&T's 5G core and FirstNet today, representing seven years of experience developing on-premises cloud for network workloads.
Microsoft has taken the acquisition of this technology, moved the engineering and program organization from AT&T's Network Cloud organization into Azure for Operators, and directly integrated the intellectual property into a new Azure offering.
Today, Microsoft are announcing the next-generation hybrid cloud platform for operators—Azure Operator Distributed Services—which combines the enhanced version of the acquired AT&T technology with the best of Azure, including security, monitoring, analytics, AI, machine learning, and so much more.
Built from the ground up and proven to run network-intensive workloads and mission-critical applications, Azure Operator Distributed Services meets the security, resiliency, observability, manageability, and performance needs required by operators to achieve meaningful results from digital transformation. It will enable operators to run all their workloads (such as core, RAN, mobile and voice core, OSS, and BSS) on a single carrier-grade hybrid platform.
With Azure Operator Distributed Services, business operations can be streamlined, providing operators with simplified management, policy, and automation delivered through unified cloud management using Azure Services, Azure Arc management, Azure Security, and platform as a service with Azure.
Azure Operator Distributed Services provides the flexibility and scalability to support customer deployments at the edge of the cloud, the edge of the network, or the enterprise edge. Now, operators can effectively create new services to monetize their network, all while gaining robust network and customer insights that are necessary to facilitate proactive decision-making, critical action, and the creation of real value.
With Azure Operator Distributed Services, Microsoft are delivering a carrier-grade hybrid cloud service to the market and AT&T where it can run at AT&T on-premises or on Azure public cloud. Azure Operator Distributed Services is designed to support the AT&T mobile core network that today spans more than 60 containerized network functions (CNFs) and virtual network functions (VNFs) from 15 different vendors, which currently are deployed and running on the AT&T Network Cloud platform. AT&T will continue to select and manage VNFs and CNFs and their configurations to deliver mobility services to AT&T customers.
AT&T and Microsoft are closely collaborating on the deployment of Azure Operator Distributed Services with initial testing stages planned for later this year.
"AT&T's 5G network is built on an agile, future-ready mobile core that's designed to boost innovation, resiliency, and security for our customers. Our 5G mobility core is fully cloud-based, integrating Network Functions from multiple vendors that today are hosted on Network Cloud infrastructure based on a cloud software stack that Microsoft acquired from AT&T last year.

We are pleased with Microsoft's plan to evolve Network Cloud and integrate it with Azure technologies to create hybrid telco-grade Azure Operator Distributed Services. This will enable AT&T and other operators to host Network Functions on clouds spanning telco premises and public cloud and will help us realize the many benefits of the cloud-native approach and Azure innovation including additional speed, resiliency, security, cost, and operational improvements."—Andre Fuetsch, Executive Vice President and CTO Network Services, AT&T
Microsoft designed the Azure Operator Distributed Services for use by all operators while maintaining security and without losing differentiation. In terms of security and privacy, operators using Azure Operator Distributed Services continue to hold access to their customer data, Microsoft cannot access or see it.
Azure Operator 5G Core and Azure Private 5G Core
Today, Microsoft also unveiled the private preview of the Azure Operator 5G Core and public preview of the Azure Private 5G Core. The Azure Operator 5G Core deploys on the Azure Operator Distributed Services to meet the needs of operators seeking automated, operational efficiency in a mobile network that can scale hundreds of millions of subscribers and devices.
Azure Private 5G Core is available as part of the Azure private MEC solution, enabling operators and system integrators to provide a simple, scalable, and secure deployment of private 4G and 5G networks at the enterprise edge. Both services are deployed and managed through Azure.
Azure Operator 5G Core
Microsoft Azure Operator 5G Core is an Azure service that enables operators to build, deploy, and manage scalable mobile networks. Operator networks need to handle unprecedented amounts of data as 5G unleashes a broad set of low-latency, high throughput consumer, industry 4.0, IoT, and massive machine-type communications.
Using Azure Operator 5G Core, operators can seamlessly deploy network workloads on Azure and manage their networks at scale with agility and cost efficiency while keeping up with the evolving demands of 5G.
Azure Operator 5G Core is built on a distributed architecture and includes cloud management, service automation, life cycle management, network slicing, and integrated analytics. This allows operators to provide an enhanced and customized user experience and leverage open APIs to easily integrate with their existing environments.
Azure Operator 5G Core and Microsoft's vast ecosystem of first and third-party tools enable operators to achieve greater enterprise value by creating new vertical solutions (such as gaming, energy, smart cities, autonomous vehicles, agriculture, etc.). We are working with a select number of partners and customers during the private preview and are excited to make this available to all operators soon.
Azure Private 5G Core
This packet core as-a-service offer allows operators and system integrators to rapidly deploy enterprise private mobile networks and low latency applications on Azure Arc-connected edge platforms, such as Azure Stack Edge.
Through Azure, partners can unify the cloud management of multiple, globally distributed private wireless networks, with the flexibility to also choose and integrate components from technology and solution partners, including a wide range of 4G and 5G Standalone RAN and SIM providers.
Microsoft are enabling a growing list of global partners to deliver next-generation private wireless solutions. Operators developing solutions using Azure private MEC include AT&T, Etisalat, Swisscom, and Telefonica.
Azure public MEC
With Azure public MEC, Microsoft are collaborating with strategic operators to enable enterprises and developers to deliver innovative high-performance, low-latency applications at the operator edge, using operators' public 5G network connectivity.
Applications that run on Azure public MEC offer customers the unique ability to analyse data closer to where it is being captured from users and edge-enabled devices (such as industrial IoT devices, cars, and smartphones). The resulting timely, detailed insights pave the way for proactive responses to and solutions for real-world enterprise problems.
With Azure public MEC, enterprises and developers can select the low-latency components they need from the cloud to deliver at the edge while managing everything else in the cloud. This level of flexibility allows customers to rapidly deploy innovative MEC solutions, increasing efficiency, and optimizing costs by reducing the need for on-premises servers and the amount of traffic to the public cloud.