Samsung today unveiled the Galaxy S23 Ultra, Galaxy S23+, and Galaxy S23, bringing the "Snapdragon 8 Gen 2 Mobile Platform for Galaxy" – and the headline feature is that the Galaxy S23 Ultra offers a massive 200MP camera.
In a Samsung Galaxy first, the Galaxy S23 Ultra boasts a new 200MP Adaptive Pixel sensor that captures epic moments with incredible precision. It uses pixel binning to support multiple levels of high-resolution processing at once.
As usual, the S23 Ultra is the no holds barred flagship phone, whereas the Galaxy S23/S23+ are more affordable handsets with a few omissions.
Overall the S23 Series includes enhanced 5000 mAh battery and improved cooling system to its camera performance and 41 percent faster GPU.
Samsung said the newly designed, 8-core CPU boosts the processing capabilities of the Galaxy S23 series by about 34 percent, which is ideal for multitasking. The optimised NPU architecture also uses an AI algorithm for an additional 49 percent boost, helping users capture stunning photos in low light.
Camera wise these two handsets feature a new 50MP main camera and 12MP front camera, enhanced with Super HDR to capture more lifelike colours. It also offers the ability to "shoot epic photos and videos even in the dark with improved night-time photo and video functionality."
Under the hood there is a Snapdragon 8 Gen 2 Mobile Platform for Galaxy, which Samsung says is the fastest and most powerful chipset ever in Galaxy. There is a battery capacity of 3,900mAh and 4,700mAh on the Galaxy S23 and S23+ respectively, increased by 200mAh each from the previous generation.
Meanwhile the Galaxy S23 Ultra (6.8-inch) integrates "the peak performance and productivity of the Note series with the ground-breaking photographic capabilities of the S series."
Again Samsung touted its upgraded camera functionality for "vibrant photos, stand-out selfies and cinematic videos with less noise even in dark conditions with Nightography. Additionally, the new Adaptive Pixel 200MP sensor enables epic, high-resolution photography with class-leading detail for crisp, lifelike photos."
Under the hood Samsung has touted the ultimate gaming experience on the go with fast and smooth mobile graphics. Heavy-duty games run with ease thanks to the exclusive Snapdragon 8 Gen 2 Mobile Platform for Galaxy in collaboration with Qualcomm.
It features a 6.8-inch QHD+ display is powered by a 5,000mAh battery, which offers efficient and long-lasting performance.
Samsung UK's newly appointed VP Head of MX Division, Samsung UK and Ireland, James Kitto, said:
"The launch of the new Samsung Galaxy S23 series is an exciting moment for our business. The evolution of our business is driven by the transformative role that smartphones play in the lives of our customers – both at work and play. We know what our customers crave – more storage, ground-breaking camera technology and an intuitive, seamless experience – and the new Galaxy S23 series undoubtedly delivers – it's our most advanced mobile technology to date".

"With this launch, we are keen to highlight not just what features our devices have, but what they can empower users to achieve. With our new camera capabilities, the Galaxy S23 Series will offer our customers more social currency, as new owners can expect to be asked 'can you send me that?' on a regular basis when it comes to the photos they capture. Added to this is the seamless connectivity of our ecosystem, which across all our devices can truly makes a difference in people's lives – whether that's getting documents updated on the move, or editing freshly captured video content."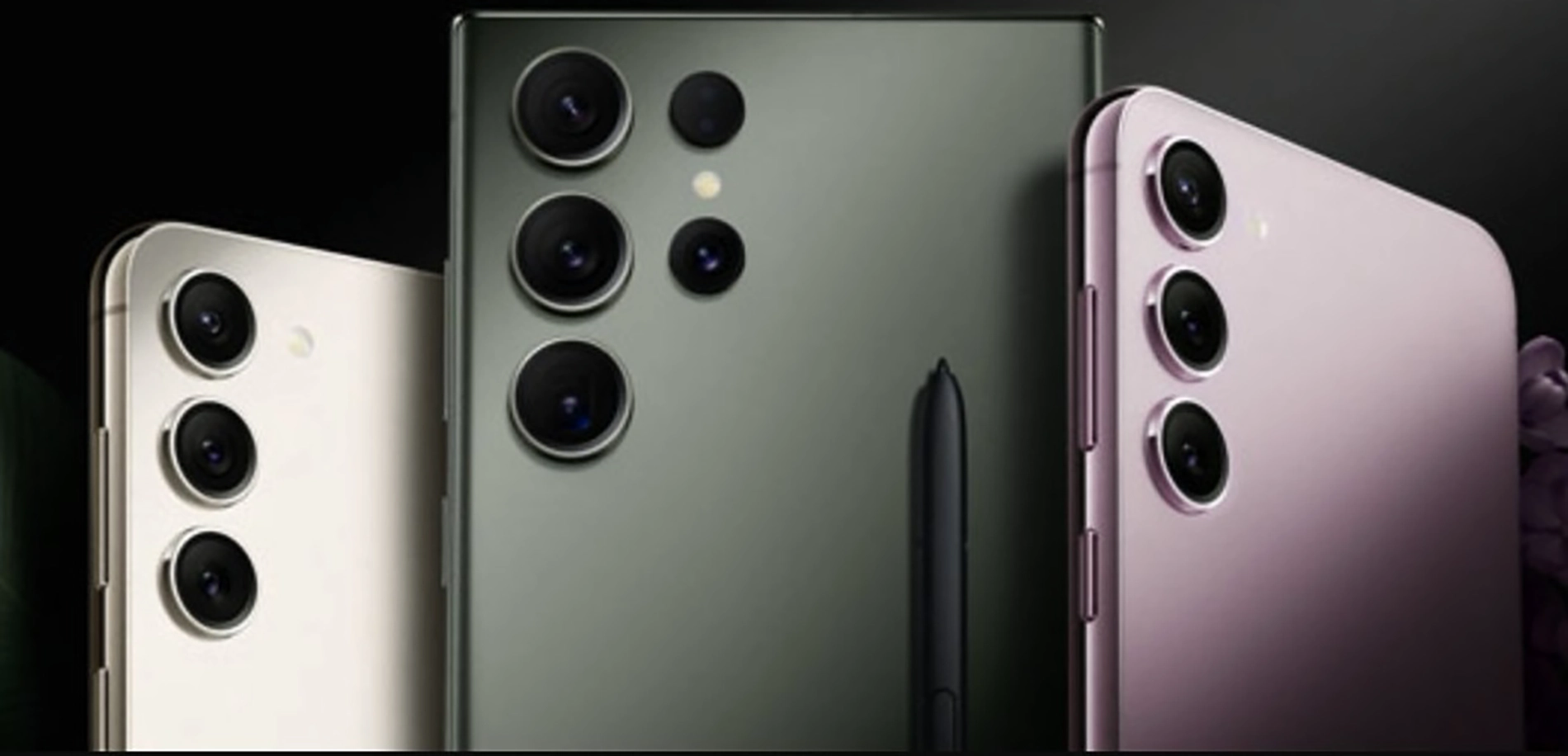 UK Availability and Special Offers
Pricing
Galaxy S23 Ultra
256GB, £1249
512GB, £1399
1TB, £1599
Galaxy S23+
256GB, £1049
512GB, £1149
Galaxy S23
The Galaxy S23 Series comes in four nature-inspired matte hues: Green, Lavender, Cream and Phantom Black and is available to pre-order from today.
Starting on February 17, 2023, Galaxy S23 Ultra, Galaxy S23+ and Galaxy S23 will be widely available in operators, retailers and on samsung.com.
For customers who pre-order the Samsung Galaxy S23 Ultra and S23+ from Samsung.com, the company will offer double the storage to 512GB for the price of 256GB. For customers pre-ordering the Samsung Galaxy S23 from Samsung.com, Samsung will double storage to 256GB for the price of 128GB. Pre-orders must be made by the 16th February to have access to this offer.
Additionally, customers who pre-order the new Galaxy S23 Series can choose from four exclusive colours, Graphite, Red, Lime and Sky Blue, as well as a 1TB storage variant at Samsung.com and Samsung stores.
Galaxy S23 Series Specs
Galaxy S23 Ultra
Galaxy S23+
Galaxy S23
Colours
Phantom Black,
Cream, Green,
Lavender
Phantom Black,
Cream, Green,
Lavender
Phantom Black,
Cream, Green,
Lavender
OS
Android 13
One UI 5.1
Android 13
One UI 5.1
Android 13
One UI 5.1
Display
6.8" Dynamic
AMOLED 2X Infinity-O
QHD+, Edge Screen
120Hz Adaptive
Refresh Rate
500ppi, 1,750nit
(Outdoor Peak)
19.3:9
6.6" Dynamic
AMOLED 2X Infinity-O
FHD+, Flat Screen
120Hz Adaptive
Refresh Rate
393ppi, 1,750nit
(Outdoor Peak)
19.5:9
6.1" Dynamic
AMOLED 2X Infinity-O
FHD+, Flat Screen
120Hz Adaptive
Refresh Rate
425ppi, 1,750nit
(Outdoor Peak)
19.5:9
Processor
Snapdragon 8 Gen 2
Mobile Platform for
Galaxy
Snapdragon 8 Gen 2
Mobile Platform for
Galaxy
Snapdragon 8 Gen 2
Mobile Platform for
Galaxy
Rear Cameras
Wide: 200MP (OIS), Laser
Auto Focus (LAF), f1.7
Ultrawide: 12MP, f2.2
Zoom: 10MP (OIS) 2PD, f2.4
/ 10MP (OIS) 2PD,
f4.9

-3X/10X Optical, 100X
Space Zoom
-8K@30fps/4K@60fps/
FHD@120fps and
960fps (Super SlowMo)
Wide: 50MP (OIS), f1.8
Ultrawide: 12MP, f2.2
Zoom: 10MP(OIS), f2.4

-3X Optical, 30X Space
Zoom
-8K@30fps/4K@60fps/
FHD@120fps and
960fps (Super SlowMo)
Wide: 50MP (OIS), f1.8
Ultrawide: 12MP, f2.2
Zoom: 10MP(OIS), f2.4

-3X Optical, 30X Space
Zoom
-8K@30fps/4K@60fps/
FHD@120fps and
960fps (Super SlowMo)
Selfie Camera
12 MP (2PD AF), f2.2

-4k@60fps
12 MP (2PD AF), f2.2

-4k@60fps
12 MP (2PD AF), f2.2

-4k@60fps
Memory / Storage
8GB RAM / 256GB,
12GB RAM / 512GB,
1TB
8GB RAM / 256GB,
512GB
8GB RAM / 128GB,
256GB
Battery
5000mAh
45W Super Fast Charging 2.0
Fast Wireless Charging 2.0
Wireless PowerShare
4700mAh
45W Super Fast Charging 2.0
Fast Wireless Charging 2.0
Wireless PowerShare
3900mAh
25W Super Fast Charging
Fast Wireless Charging 2.0
Wireless PowerShare
Connectivity
5G: sub6 / mmW
WiFi 6E
Bluetooth 5.3
UWB
5G: sub6 / mmW
WiFi 6E
Bluetooth 5.3
UWB
5G: sub6 / mmW
WiFi 6E
Bluetooth 5.3
Other
IP68
Ultrasonic Fingerprint
Face Recognition
Gorilla Glass Victus 2
IP68
Ultrasonic Fingerprint
Face Recognition
Gorilla Glass Victus 2
IP68
Ultrasonic Fingerprint
Face Recognition
Gorilla Glass Victus 2
Dimensions
3.07 x 6.43 x 0.35 in
8.25oz
3 x 6.21 x 0.3 in
6.91oz
2.79 x 5.76 x 0.3 in
5.93oz