Samsung today unveiled its fifth generation of Galaxy foldables: Galaxy Z Flip5 and Galaxy Z Fold5.
We know that when customers get our latest foldable devices into their hands, with their innovative design and industry leading features, they won't be able to put them down," said James Kitto, VP Head of MX Division, Samsung UK and Ireland.

"Few other possessions work as hard as the phone in your pocket, and it's increasingly integral to our daily lives. Not only do our consumers expect their phone to withstand the daily demands from a durability perspective, but they want their smartphone to reflect their personality. Our latest foldable range offers a next generation smartphone for every taste and lifestyle. From the Galaxy Z Flip5 – one of the world's most pocketable smartphones; to the multi-tasking powerhouse that is the Galaxy Z Fold5, we can't wait for our loyal customers, and new recruits to Samsung, to experience them and join the flip side."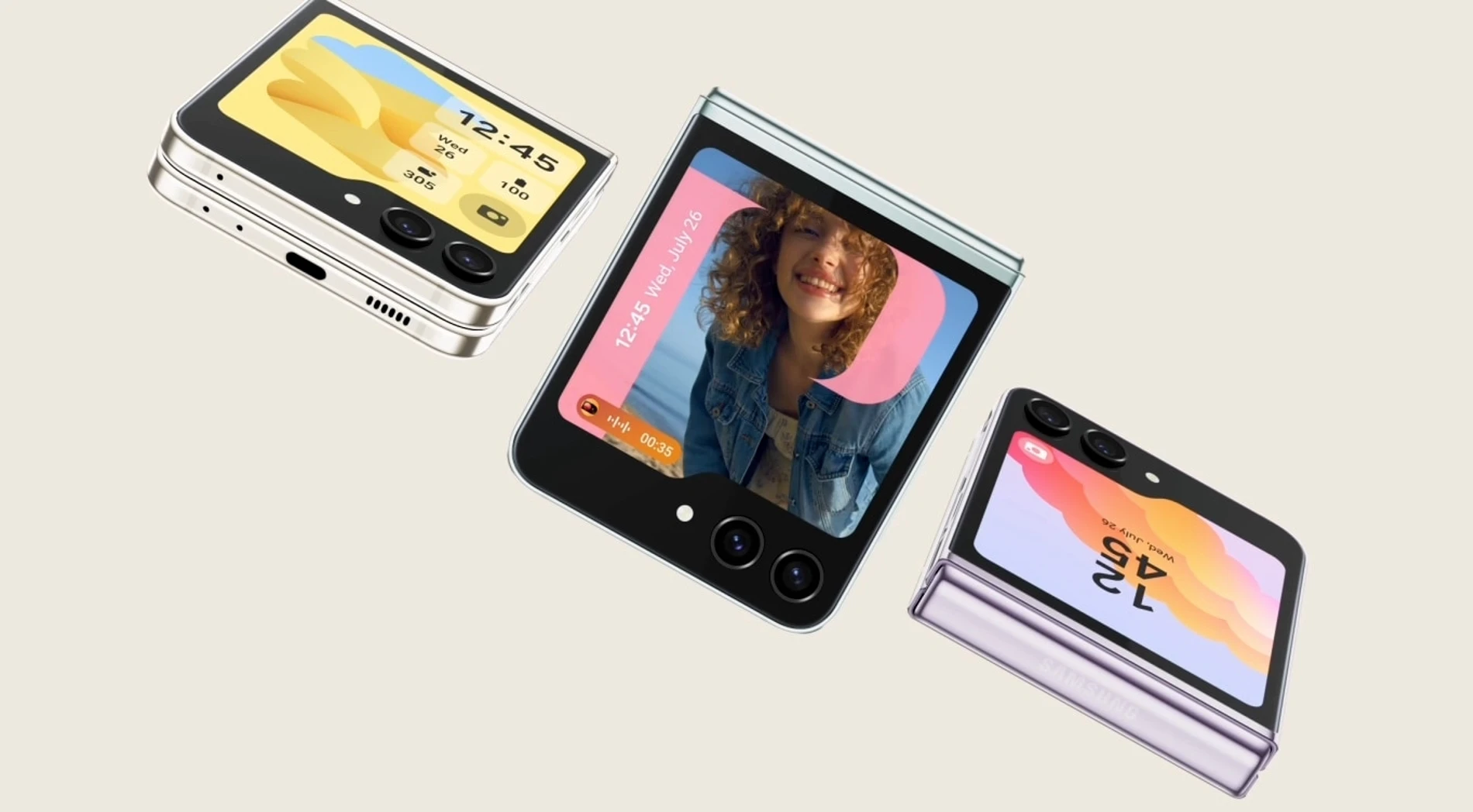 Galaxy Z Flip5
The Galaxy Z Flip5 delivers a stylish, unique foldable experience from a pocket-sized device built for self-expression.
The new Flex Window, now 3.78 times larger than the previous generation, offers a wide range of existing and new capabilities. It provides more customisation options, including informative and graphical clocks that can match the face design of a user's Galaxy Watch6 series, as well as stylish frames. In addition, Galaxy Z Flip5's new Flipsuit Case provides device protection with a changeable NFC card, so users can match their Flex Window design and case design for even more personalisation options.
Closed, the Galaxy Z Flip5 offers more usability than ever before. From the Flex Window, quickly and effortlessly access useful information. With Widgets, users can check the weather, control music playback and listen to their favourite music with Media Controller, or catch up on the latest global stock market updates with the Google Finance widget. Simply view all Widgets at a glance and switch between them instantly with a pinch of the screen to activate Multi Widget View.
Plus, easily check notifications and access Quick Settings for Wi-Fi or Bluetooth. Without ever opening the device, browse through call history to return missed calls, and reply to texts on-the-go using Quick Reply with a full QWERTY keyboard and visibility of chat history. With a quick swipe up on the screen, access Samsung Wallet to pay on-the-go, access QR codes and coupons, as well as boarding passes, membership cards and digital keys.
With its enhanced design and form factor, Galaxy Z Flip5 also offers the most versatile camera experience on a Samsung Galaxy smartphone. Take high-quality selfies with the rear camera thanks to the larger Flex Window. Users can capture stunning hands-free photos from creative angles with FlexCam. It's quick and simple to view and edit shots in Flex Mode too. Users can review, adjust the colour tone, or delete images easily with the Quick View in the Flex Window. When taking a photo of a friend, Dual Preview lets them see themselves in the Flex Window so they can make adjustments in real time for the perfect shot. Users can get a smooth shot on the go with camera-stabilizing Super Steady, while Auto Framing ensures that no one is left out.
The Galaxy Z Flip5 adds AI solution improvements to the powerful camera experience, bringing every photo to life. Get creative, even in low light, with improved Nightography capabilities that optimise photos and videos in ambient lighting conditions. The AI-powered image signal processing (ISP) algorithm corrects any visual noise that typically spoils low-light images while enhancing details and colour tone. Even from a distance, photos are clearer with the digital 10X zoom.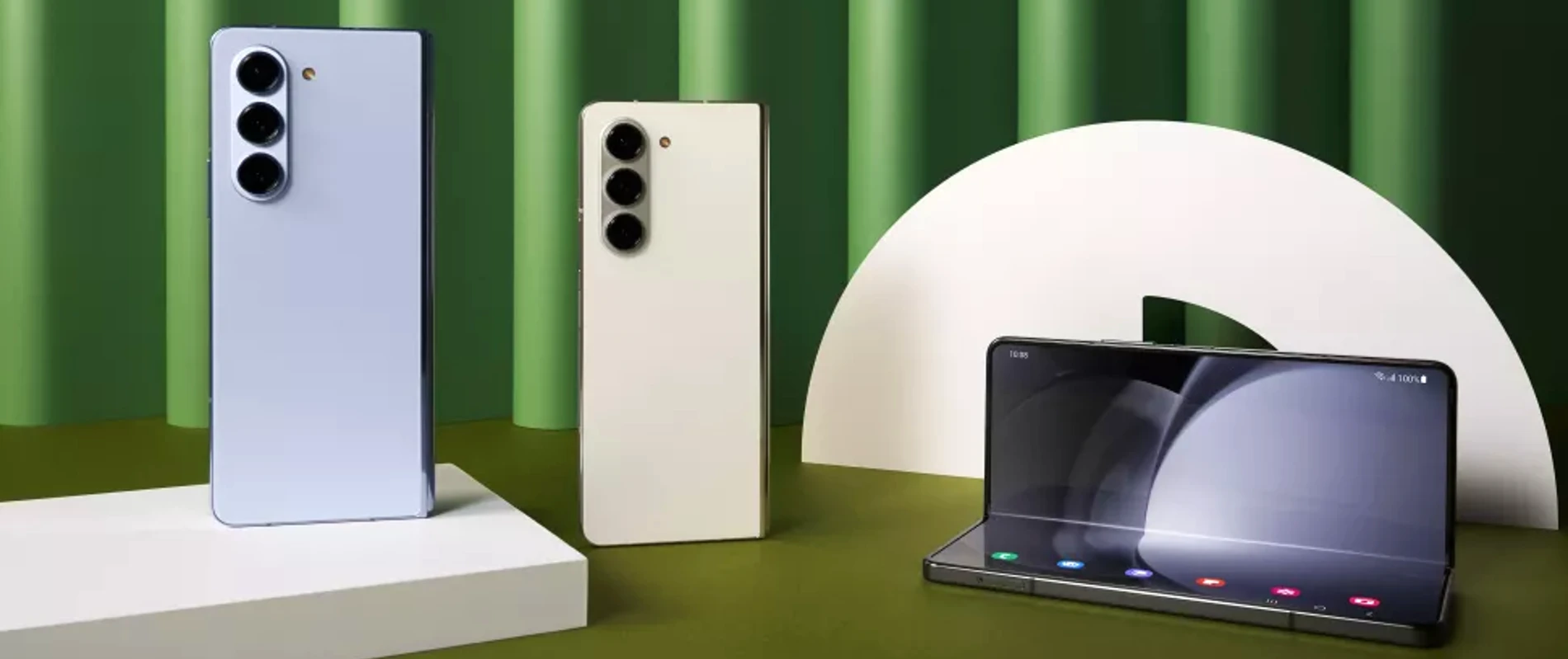 Galaxy Z Fold5
The basics of the Z Fold 5 are essentially the same as the Z Fold 4 in terms of the overall design, screen sizes, buttons, USB-C port, software support, S Pen support and – of course the price.
The new Flex Hinge is the major improvement introduced with Galaxy Z Fold 5. Previously, Samsung foldables used to fold with a gap between the display, owing to the hinge design Samsung follows. But the gap is going away now, with Samsung finally catching up to rivals like Oppo Find N2, Honor Magic V, and Google Pixel Fold.
Samsung Galaxy Z Fold 5's new hinge is a waterdrop hinge that folds shut, leaving no gap between them. This makes the Samsung Galaxy Z Fold 5 slimmer, lighter, and more portable.
Samsung has improved the hinge design, but the Galaxy Z Fold 5 displays have remained more or less the same, with the inner display getting a boost in peak brightness.
Samsung chose not to change the cameras of the Fold; Galaxy Z Fold 5 uses the same set of cameras as the Galaxy Z Fold 4.
The phone has two selfie cameras – one on the cover display and the other on the inner display. The inner display is placed under the display, so we get a full-screen experience without any notch or punch holes.
While the camera hardware is the same as the previous phone, the new Spectra ISP of the Snapdragon 8 Gen 2 is better and more powerful. Providing users with an immersive gaming experience on the largest Galaxy smartphone screen, the Snapdragon 8 Gen 2 Mobile Platform for Galaxy enhances graphics and uses AI to enable dynamic gaming and multi-game functionality.
Like the cameras, Samsung has decided to keep the battery and charging untouched. A 4400mAh battery with support for 25W wired charging charges up Galaxy Z Fold 5. It also has 15W wireless charging and 4.5W reverse wireless charging.
As with the previous Folds, Samsung Galaxy Z Fold 5 comes with S pen support and has the IPX8 rating for water resistance.
The improved Taskbar enables dynamic productivity by allowing users to quickly switch between frequently used apps. Now up to four recent apps are at the ready for more efficient working. Newly enhanced two-handed drag and drop can also ramp up productivity when moving content between apps and screens.
Simply touch and hold an image in Samsung Gallery with one finger and use another finger to open the Samsung Notes app to drag-and-drop the image. With hidden pop-up, an app can continue running in the background, allowing users to watch video content in full screen and chat with friends in a floating pop-up on the side of the screen.
The new slimmer and more compact S Pen Fold Edition makes real-time annotating and ideation easy while being able to fit more comfortably in the pocket. The Slim S Pen Case is nearly the same thickness as a regular case for the Fold and available in a variety of styles and colours so users can carry their S Pens in style.
Availability
The Galaxy Z Flip5 and Galaxy Z Fold5 are available for pre-order from today (26th July) and will be on-sale from 11th August. All products will be available to purchase via www.samsung.com/uk, and select partners.
Enhanced trade-in is being offered on Samsung.com for the Galaxy Z Fold5 and Galaxy Z Flip5. Users can claim up to £650 when pre-ordering and trading in an eligible smartphone, in any condition. For customers who pre-order the Samsung Galaxy Z Fold5 and Galaxy Z Flip5 from Samsung.com we will offer double the storage to 512GB for the price of 256GB. Pre-orders must be made by the 10th August to have access to this offer.
Galaxy Z Flip5 lets users express themselves with colours including Mint, Graphite, Cream, and Lavender as well as a range of accessories including a Clear Gadget Case, Flipsuit Case and easy-to-carry Silicone Case with Ring to create a more personalised look.
Additionally, Galaxy Z Flip5 is available in Blue, Green, Grey and Yellow exclusively on Samsung.com.
Samsung Galaxy Z Flip5
256GB, £1,049
512GB, £1,149
Galaxy Z Fold5 is available in Icy Blue, Phantom Black, and Cream, along with a variety of cases that offer practicality and style including a Slim S Pen Case, Clear Gadget Case, and a Standing Case with Strap.
Additionally, Galaxy Z Fold5 is available in Blue and Grey with additional storage capacity options up to one terabyte, exclusively on Samsung.com.
Samsung Galaxy Z Fold5
256GB, £1,749
512GB, £1,849
1TB, £2,049