A new report from Kaleido Intelligence, a connectivity market intelligence and consulting firm, has found that over 1.4 billion eSIMs (including eUICC and iUICC form factors) will be shipped in 2028, growing at a CAGR of 21% between 2023 and 2028.
Operators Forced to Embrace eSIM
The research, eSIM Market Outlook & Opportunities 2023, highlighted how a fully end-to-end digital onboarding process for consumer devices is critical at scale. Today, many MNOs continue to rely on QR code mechanisms which do not offer an optimal end-user experience.
A critical factor behind the drive towards end-to-end digital onboarding will come from increased Entitlement Service uptake and Digital BSS modernisation: key to supporting and digitally enabling eSIM connectivity for disparate consumer devices.
Market disruption, in the form of travel eSIM in addition to widespread enablement of the ability to transfer an eSIM from one device to another, will effectively result in competitive differentiation, forcing the market to take new shape.
As a result, operators will be forced to embrace eSIM: Kaleido anticipates that smartphone eSIM activations will grow on average by 77% between 2023 and 2028.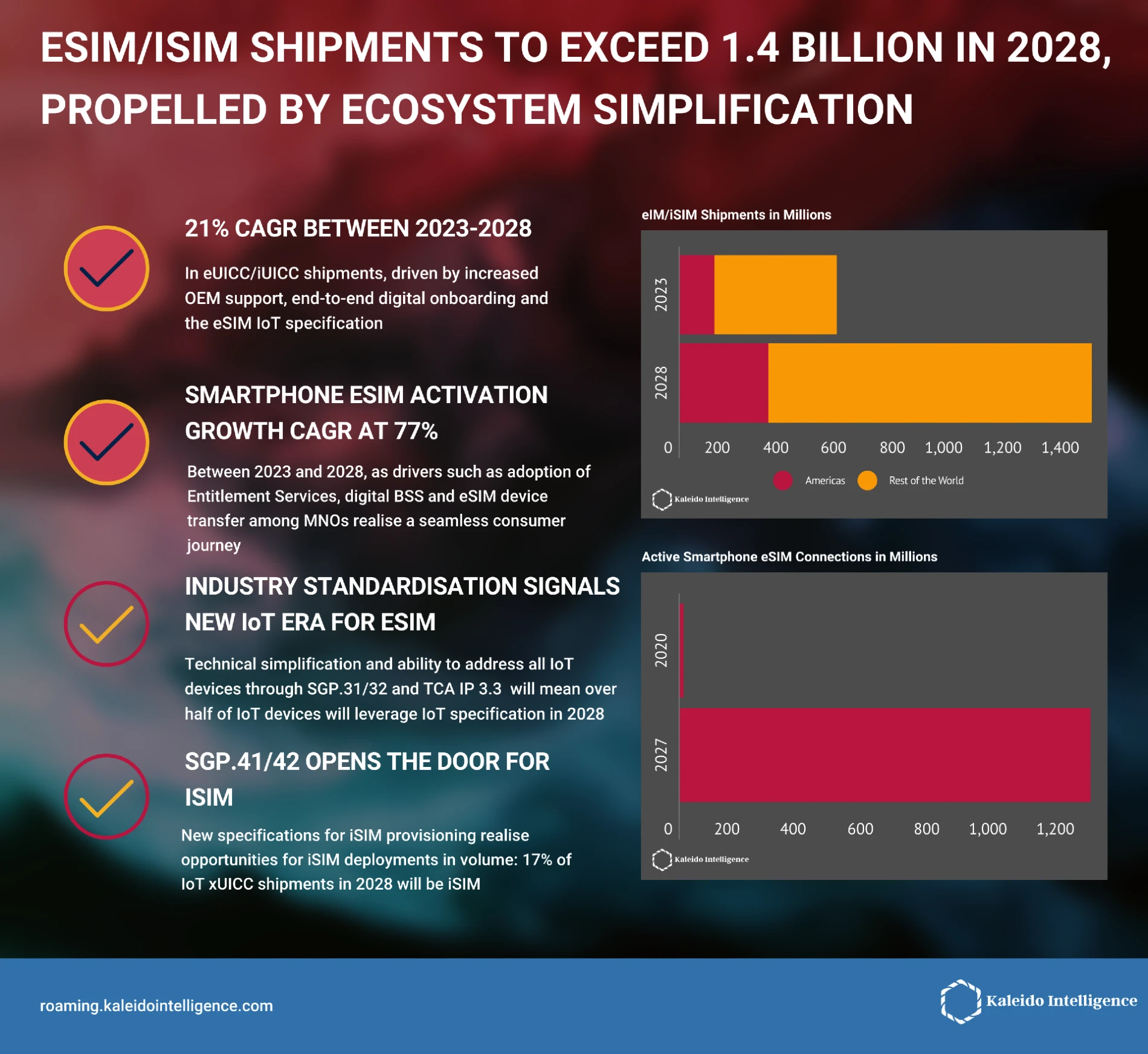 eSIM IoT Specification Offers a New Competitive Environment
The emergence of the IoT specification for eSIM, which will see commercialisation as pre-compliant solutions in 2024, will lower the technical and investment burden to support IoT connectivity.
Although many MNOs may not have a concrete strategy for IoT connectivity at retail, support for eSIM via the new specification will offer considerable opportunities at the wholesale level. With well over half of active IoT eSIMs using the new specification by 2028, demand for connectivity profiles will be greater than ever before.
eSIM on the Road to LPWAN Optimisation
Historically, the use of eSIM for LPWAN (NB-IoT and LTE-M) connectivity has been challenging. The M2M specification demanded support for SMS or TCP/IP, while eSIM profiles were considered large enough to be taxing on low-bandwidth, battery-powered devices.
The IoT specification addresses LPWAN devices directly, by opening up CoAP (Constrained Application Protocol) support for transport, while, critically, the TCA (Trusted Connectivity Alliance) has introduced a 'lightweight' eSIM profile that reduces the power burden for over-the-air eSIM LPWAN campaigns.
Steffen Sorrell, Chief of Research at Kaleido, commented:
"The eSIM market has seen several developments recently that smooth the path to adoption, and address many lingering ecosystem challenges. The effect of this will mean eSIM or iSIM form factors will gradually become a de facto requirement by 2028 for most cellular devices."
You can view the full research details here.