EE has partnered with AR company, Nreal, to exclusively bring the Nreal Air AR glasses to the UK. EE says that the move forms part of EE's ongoing commitment to provide customers with exciting experiences from the world's most innovative companies and will see the glasses available from later this spring.
With the latest AR technology, fine-tuned audio, and a massive 201-inch expanded Full HD virtual display, Nreal Air is a great way to experience digital content on the move. When combined with a compatible smartphone connected to EE's 5G network, the glasses open-up new possibilities for mobile gaming via the cloud as well as streaming high-definition movies and TV shows.
Connecting a Bluetooth gaming controller can also turn your smartphone into a portable console when coupled with a game-streaming platform.
Nreal Air supports two different modes. In "Air Casting" mode, customers can mirror their phone screen and enjoy their entire mobile experience on a 130-inch HD virtual display. The "MR Space" mode takes customers into a Mixed Reality environment and gives them a taste of innovative AR technologies.
They can position multiple virtual screens as large as 201 inches in 3D space, for example, they can experience stationary cycling exercises in an immersive AR environment, while exploring an expanding array of AR apps.
The Nreal Air glasses have been developed with style in mind. With a classic, sunglasses-inspired lightweight design weighing only 79 grams, they are easy to wear with a set of nose pads for comfort. Nreal's latest glasses are ideal for the 55% of Brits who claim that they had been put off by AR glasses in the past because of they were heavy and not stylish – which can make wearing them for long periods slightly uncomfortable.
Nreal Air glasses also come with a small compact carry case, which makes them easy to slip into a pocket or bag, and can be used wherever a customer uses their smartphone.
Compatible with a range of smartphones from the world's leading manufacturers, the glasses work in conjunction with the Nreal Nebula app, which launches the AR operating environment for the end user.
Unlike most AR glasses, Nreal Air can also be kitted out with a lens frame for the individuals own prescription lenses—meaning customers do not have to use them with their normal glasses underneath.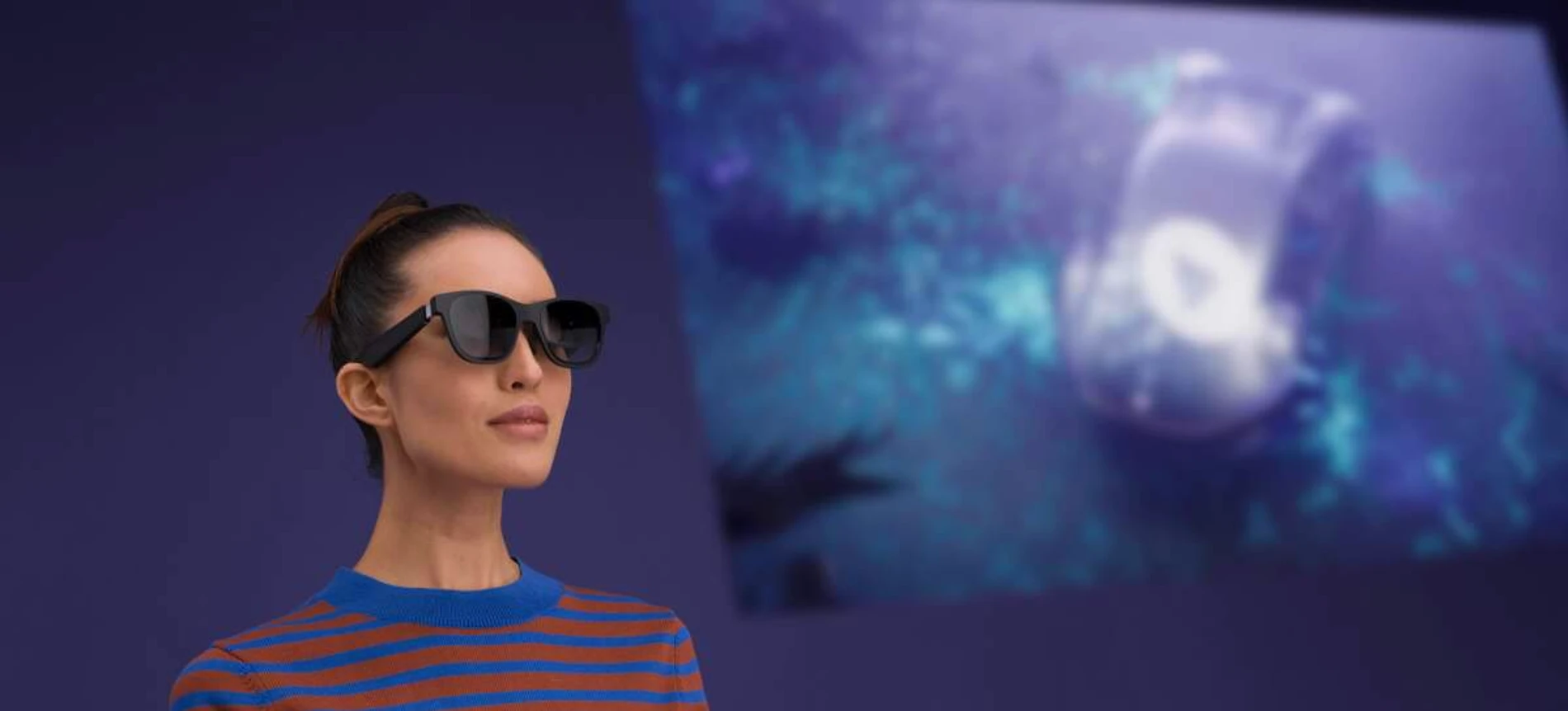 Alistair Wilson, Director of Devices and Partnerships, EE said:
"We're working with the best content providers and the most innovative technology companies in the world to create entirely new experiences for our customers. Nreal are at the forefront of AR, and we're delighted to be the exclusive UK partner for the launch of their new Nreal Air AR glasses.

When combined with the power of 5G, it really does open up new possibilities for seamless streaming and access to new types of content on the move – these are really exciting times for mobile."
Peng Jin, Co-founder of Nreal, added:
"We're delighted to enter the UK market in partnership with EE and we look forward to building up the AR ecosystem together. At Nreal, we're passionate about bringing AR into consumers' everyday lives, which will start a revolutionary transformation just as the internet once did.

AR will transcend the current mobile experience, especially when it comes to watching videos, exercising, and playing PC and cloud video games. As we continue to enrich the AR ecosystem with each update and upgrade, consumers will enjoy more mind-blowing digital innovations and experiences blended into everyday life."
Pricing and Availability
EE will launch the new Nreal Air AR glasses later this spring, with full pricing and availability to be announced in due course.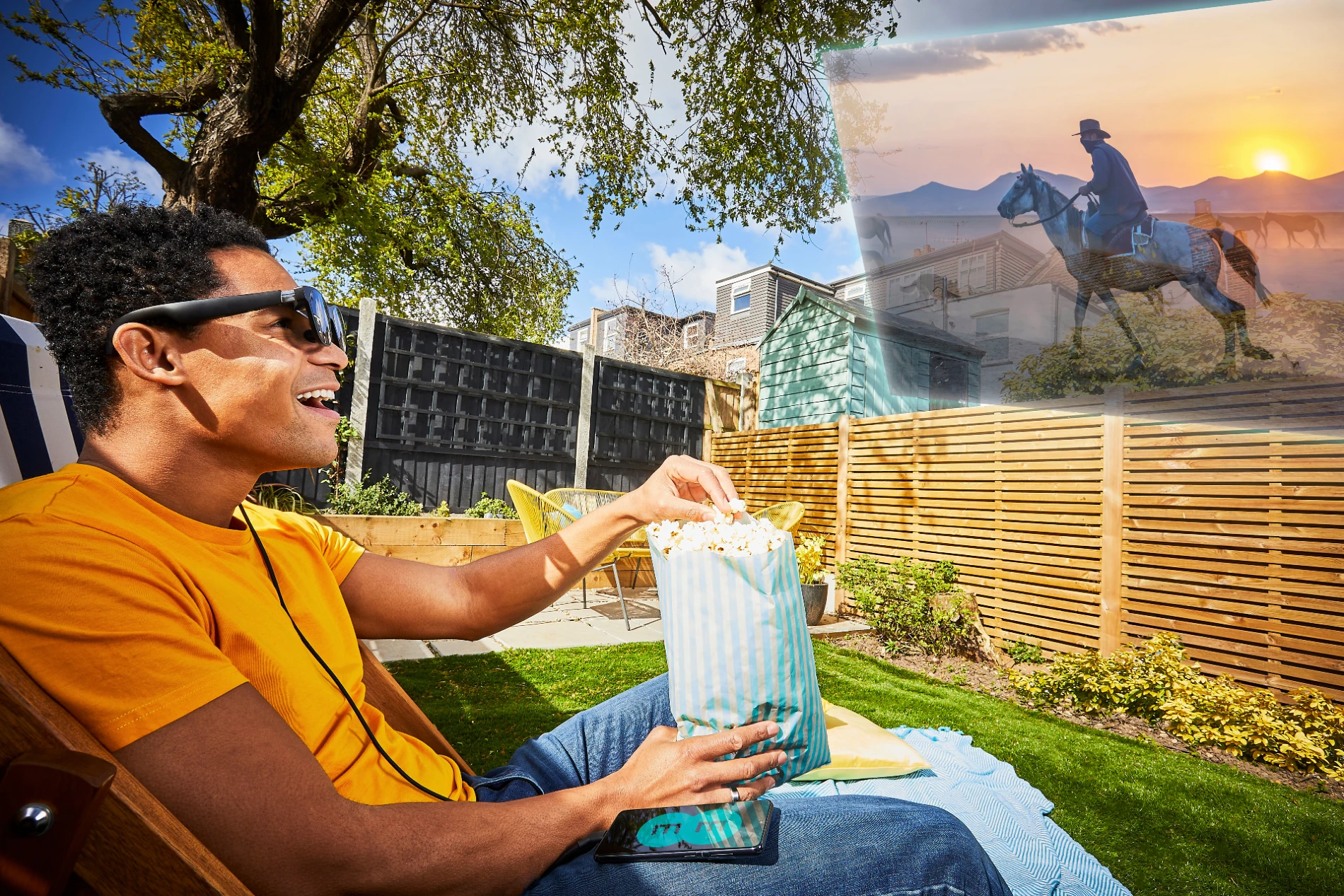 Key Nreal Air specs
Form factor
·       148mm x 52mm x 159mm (opened)
·       148mm x 52mm x 60mm (folded)
·       3-Position adjustment for optimal gaze angle
·       Head width from 120-186mm
Power
· Up to 5 hours video streaming in Air Casting mode
Weight
· 79 grams
Display
·       OLED
·       3840 by 1080 pixels with sRGB 108% colour gamut, 8-bit depth for 16.773 million colours
·       Up to 400 nits perceived brightness
·       100,000:1 contrast ratio
·       ~46 degree FoV, 49 pixels per degree (PPD)
·       130″ at 4m (Air Casting Mode), 201″ at 6m (MR Space Mode)
·       Fingerprint resistant coating, anti-reflective coating
Audio
·       2 open-ear speakers
·       Dual microphone array, omnidirectional MEMS microphones
·       Bass boost, virtual rendering
·       Echo cancellation, noise cancellation, beamforming, speech enhancement
Position tracking
· 3DoF head tracking
Controls and sensors
·       Screen on/off button
·       Screen brightness adjustment button
·       Accelerometer, gyroscope, magnetometer
·       Proximity sensor
Accessories
·       Detachable cable
·       Prescription-lens frame
·       3 nose pads
·       Case
·       Cleaning cloth
·       Light shield