Samsung has launched the Galaxy Book2 Pro series, consisting of the Galaxy Book2 360, Galaxy Book2 Pro, and Galaxy Book2 Pro 360 .
Both form factors combine the flexibility and versatility needed for today's evolving work and learning lifestyles and are built with Samsung's mobile DNA. The result is a PC experience that is equally productive and portable.
"As consumers continue to use more devices in their homes and offices, the mobile-first generation expects the next level from their PC experience to meet the demands across all aspects of this hybrid living era," said James Kitto, Vice President of Sales, Samsung Electronics UK and Ireland.

"As part of this pursuit, we have reimagined the PC to unlock the possibilities for the 'office' of tomorrow and fundamentally enhance the everyday lives of our users.

Together with seamless continuity across our Galaxy devices, secure mobility and a leading smartphone experience, consumers can enjoy a new breed of thinner and lighter PCs ready for the new hybrid world, so customers can work, watch and create, however, wherever and whenever they want."
To further protect users, the Galaxy Book2 Pro series is the first consumer PC line-up meeting Microsoft's secured-core PC requirements. Previously designed for enterprise PCs in high-security industries such as finance, healthcare and government, Galaxy Book2 Pro series' secured-core PC designation delivers an enhanced level of protection on Windows 11 and features deeply integrated hardware, firmware and software to boost protection against potential cyber-attacks.
"Working with Samsung on the Galaxy Book2 Pro series is the next chapter in our proud collaboration to remove barriers between different operating systems and bring the best of Microsoft apps and services to the Galaxy Ecosystem," said David Weston, Director of Enterprise and OS Security, Microsoft.

"Delivering the first consumer PC with Microsoft's secured-core PC designation is a crucial step in this effort as today's consumers deserve the same security protections they get in the office as they do while working remotely."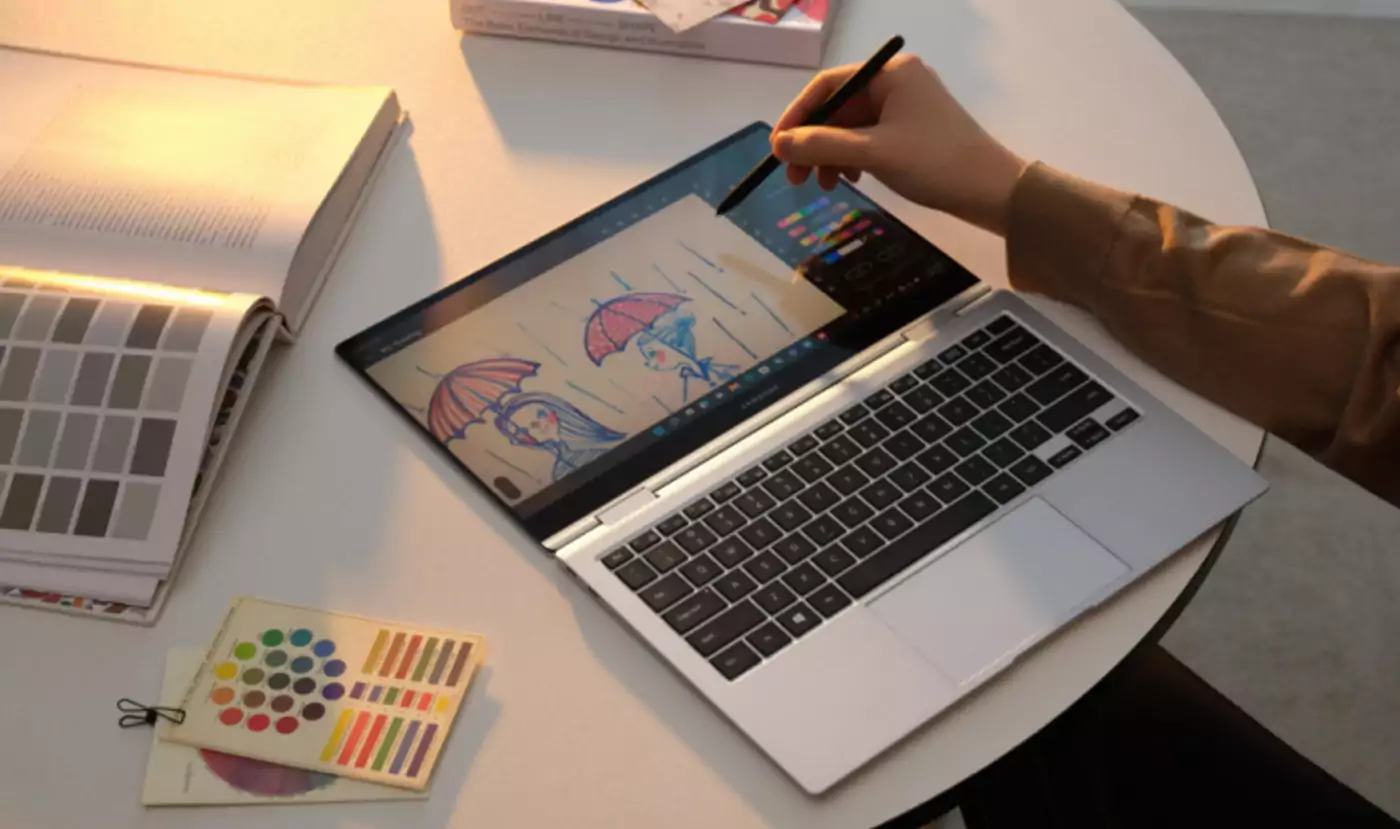 The Galaxy Book2 Pro series offers the advantages of enterprise security inside an ultra-portable, stylish chassis that easily travels wherever you go. They provide the thin and light designs with the Galaxy Book2 Pro measuring just 11.2mm thin and weighing an astonishing 870g. The Galaxy Book2 Pro Series also come in new colours combined with the freedom of 5G and Wi-Fi 6E connectivity.
With long-lasting battery life, consumers can move about their day without always being plugged in. Plus, the Galaxy Book2 Pro series' super-fast USB Type-C universal charger can power every Galaxy mobile device, allowing you to carry just one charger while traveling.
The Galaxy Book2 Pro series features the latest 12th Gen Intel® Core™ processors that allow users to work, video call and game with smooth and reliable performance. Samsung continues its proud partnership with Intel, working closely with the chipmaker to ensure full processor optimisation with Galaxy Book2 Pro series hardware and software.
"We continue to push the boundaries of what's possible in our longstanding partnership with Samsung through increased resources, deeper platform integration and more optimisation using our newest 12th Gen Intel® Core™ processors," said Jim Johnson, Senior Vice President and interim general manager of the Client Computing Group at Intel Corporation.

"With the Galaxy Book2 Pro series, the results speak for themselves. These are some of the lightest, thinnest, and most powerful PCs we've ever had the opportunity to work on."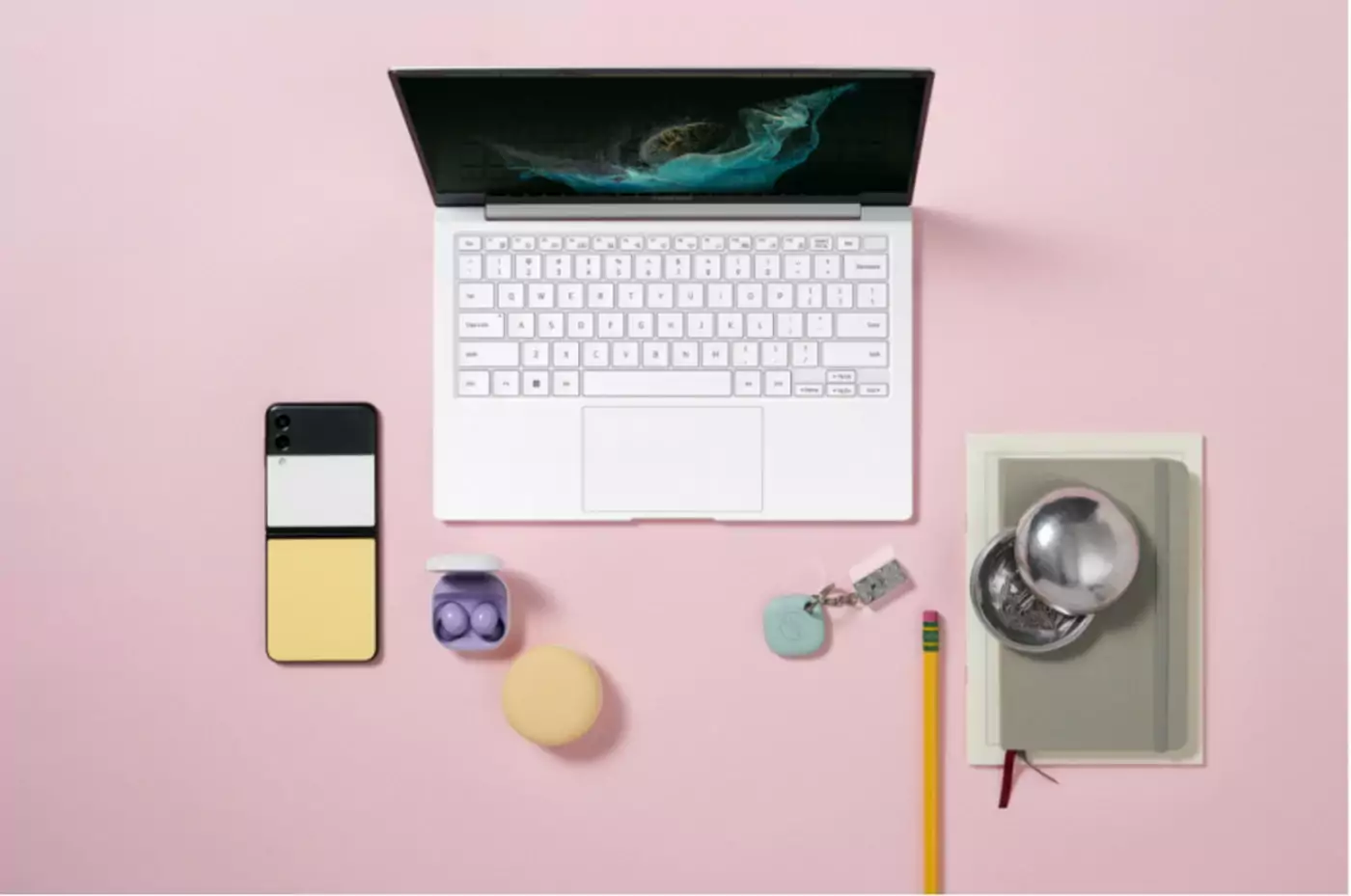 With video calls now a part of everyday life, the Galaxy Book2 Pro series is upgraded for high-quality call experiences every time you connect. Now featuring 1080p FHD webcams and wider field of view angles, your video feed will look clear during every call. 
Studio Mode is also upgraded with a variety of new features, including Auto Framing, which keeps you perfectly centred even when you move around the frame. New background effects and Face Effect remove visual distractions from the background while enhancing your appearance, so you'll look your best no matter where you video chat.
To complete the video experience, GREENGUARD-certified AMOLED displays are now brighter for increased clarity.
Audio on the Galaxy Book Pro2 series is also enhanced for calls that sound just as good as they look. Bi-directional AI noise cancelling blocks distracting noises from both you and your colleague's background, so every word is heard with full clarity.
Additionally, the Max 5W output Smart Amp produces balanced sound at louder volumes. Galaxy Book2 pro series also supports AKG and Dolby Atmos sound technology.
Furthermore, the newly added Samsung Device Care application included in the Galaxy Book2 Pro series now allows users to check their device efficiency and provides ways to optimise power and storage to ensure consistent performance throughout the lifespan of the device.
Connected
The Galaxy Book2 Series, including the new Galaxy Book2 and Galaxy Book2 360 offer a variety of connected experiences inside the Galaxy Ecosystem that eliminate friction in users' daily lives. The new Galaxy Book Experience helps users get familiar with unique Galaxy features and transfers their content onto their new device. 
Through Single Sign-On with Samsung Account, users just need to enter their usernames and passwords once and instantly have access to Galaxy device apps and content including Samsung Gallery and Samsung Notes as well as have their Galaxy Buds ready for pairing.
This new experience also takes users through the Galaxy Book Smart Switch process, helping them move old data, photos, settings and more, from their old PC regardless of manufacturer, to their new PC. 
And once transferred, the new Galaxy Book2 series experience is more familiar than ever with the intuitive One Book UI 4.0. Users with other Galaxy devices will feel at home on their new PC with the same UI, apps and menus they're already familiar with.
Furthermore, Galaxy Book2 series offers a variety of updates that make everyday interactions more seamless:
Link to Windows / Microsoft Your Phone
Pairs your Galaxy smartphone to your Galaxy Book2 series device, now offers Recent Apps, allowing users to swipe up on their Windows 11 taskbar to check their smartphone's status and even select their most recently used smartphone apps to use directly on their desktops.
Samsung Multi Control
With Samsung Multi Control, you can use your Galaxy Book2 series' keyboard and trackpad while navigating on your Galaxy Tab S8 screen for seamless interactions across devices.
Private Share
Private Share makes sharing sensitive work documents to colleagues easier than ever. It creates timed links with increased security options based on blockchain technology including, view only access, disabling screen capture abilities while viewing and fully revoking access, so users keep the full control of their files even after sharing.
Quick Share
Now, Quick Share can be used to send large files with the new Link Sharing option, which generates an easily shareable link that recipients can access to quickly share content from PC to other devices.
The Galaxy Book2 series also serves as the perfect hub for your SmartThings compatible devices. Turn on the lights, set the temperature or check your security cams all from the convenience of the SmartThings Dashboard. With new Bixby voice control functionality, you can control your IoT devices with the convenience of voice prompts.
Plus, with SmartThings Find, if a user misplaces their Galaxy Book2 series device, they can quickly locate it even if it is currently turned off.
The Galaxy Book2 Pro series advances Samsung's ongoing commitment to minimise its environmental footprint and help Galaxy users adopt more sustainable lifestyles. Samsung recently announced a new high-performance, eco-conscious material that repurposes discarded fishing nets to reduce plastic waste in the ocean, and this material is now featured in the touchpad holder and the inner bracket of the Galaxy Book2 Pro series.
Availability
The Galaxy Book2 Pro Series will be available to pre-order on 18th March 2022 before going on wider sale on 01 April 2022 in Samsung channels and major UK retailers.
Samsung will also be ranging the new Galaxy Book2 and Galaxy Book2 360 in the UK, with pre-orders starting on 18th March before going on wider sale on 01 April 2022 in Samsung channels and major UK retailers.
From 18th March customers who pre-order any of the Galaxy Book2 Pro, Galaxy Book2 Pro 360 or Galaxy Book2 360 can claim a free pair of Galaxy Buds Pro and Multiport adapter worth £300.
Samsung Galaxy Book2 Pro 360
3″ (i5) 8GB, 256GB, Graphite + Silver- RRP £1099
3" (i7) 8GB, 256GB, Silver – RRP £1199
3" (i7) 16GB, 512GB, Silver, Burgundy- RRP £1399
6″ (i5), 8GB, 256GB, Silver – RRP £1199
6" (i7), 16GB, 512GB, Silver- RRP £1499
Samsung Galaxy Book2 Pro
3" WiFi (i5) 8GB, 256GB, Silver- RRRP £999
6″ WiFi, (i5) 8GB, 256GB, Silver – RRP £1099
6″ WiFi (i7) 16GB, 512GB, Silver – RRP £1399
6" 5G, (i5) 8GB, 256GB, Graphite – RRP £1299
Samsung Galaxy Book2 360
3" WiFi (i5) 8GB, 256GB, Silver- RRP £949
6″ WiFi (i7) 16GB, 512GB, Silver – RRP £1249
Samsung Galaxy Book2
6″ WiFi, (i3) 8GB, 256GB, Silver – RRP £599
6" WiFi, (i5) 8GB, 256GB, Silver + Graphite – RRP £699
6" WiFi, (i5) 8GB, 512GB, Silver- RRP £799
6" WiFi (i7) 8GB, 512GB, Silver- RRP £899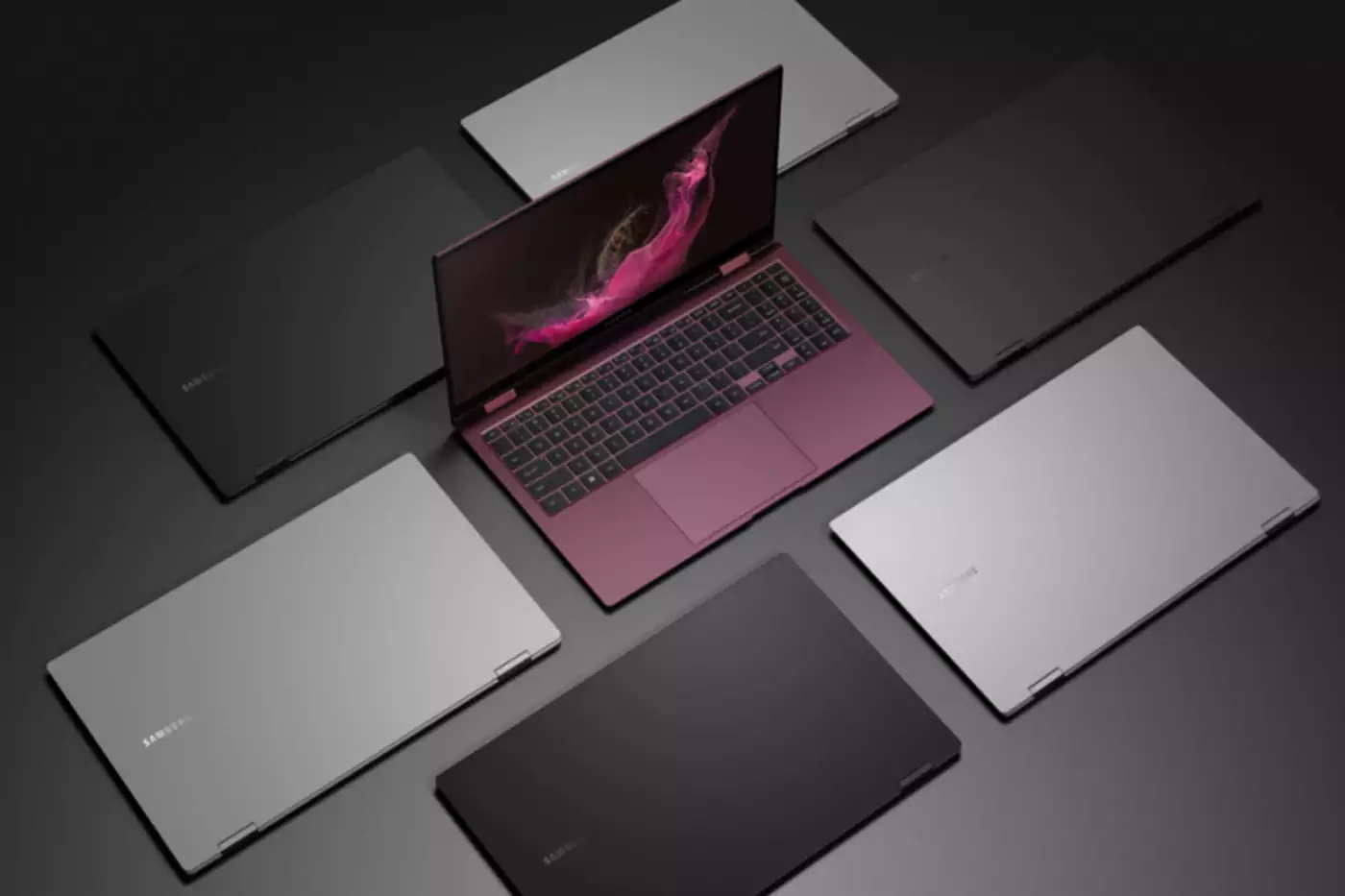 Samsung Galaxy Book2 Pro Series Specifications
Galaxy Book2 Pro 13.3"
Galaxy Book2 Pro 15.6"
OS
Windows 11
Windows 11
Processor
12th Gen Intel
Core i5
Core i7
Intel Evo
12th Gen Intel
Core i5
Core i7
Intel Evo
RAM
8GB, 16GB, 32GB
LPDDR5
8GB, 16GB, 32GB
LPDDR5
Graphics
Intel Iris Xe
Intel Iris Xe
Intel Arc
Storage
Up to 1TB M.2 PCIe NVMe SSD
Up to 1TB M.2 PCIe NVMe SSD
Display
13.3 inches
1920×1080 (FHD)
16:9 aspect ratio
AMOLED
15.6 inches
1920×1080 (FHD)
16:9 aspect ratio
AMOLED
Ports
Thunderbolt 4
USB-C
USB-A 3.2
3.5mm combo
microSD card reader
Thunderbolt 4
USB-C
USB-A 3.2
HDMI
3.5mm combo
microSD card reader
Nano SIM (optional)
Audio
Dual 4W speakers
Smart AMP
Dolby Atmos
Sound by AKG
Dual 5W speakers
Smart AMP
Dolby Atmos
Sound by AKG
Connectivity
Wi-Fi 6E
Bluetooth 5.1
5G
Wi-Fi 6E
Bluetooth 5.1
Camera
Front-facing 1080p
Dual-array mic
Front-facing 1080p
Dual-array mic
Keyboard
Backlit
Island type
Backlit
3-row numeric
Island type
Security
Fingerprint reader
Fingerprint reader
Battery
63Wh
65W AC adapter
68Wh
65W AC adapter
Dimensions
11.98 x 7.86 x 0.44 inches
(304.4mm x 199.8mm x 11.2mm)
Integrated graphics:
13.99 x 8.88 x 0.46 inches
(355.4mm x 225.8mm x 11.7mm)
Discrete graphics:
13.99 x 8.88 x 0.52 inches
(355.4mm x 225.8mm x 13.2mm
Weight
1.91 pounds (0.87kg)
Integrated graphics:
2.44 pounds (1.11kg)
Discrete graphics:
2.58 pounds (1.17kg)
Colour
Silver
Graphite
Silver
Graphite
Galaxy Book2 Pro 360 (13.3)
Galaxy Book2 Pro 360 (15.6)
OS
Windows 11
Windows 11
Processor
12th Gen Intel
Core i5
Core i7
Intel Evo
12th Gen Intel
Core i5
Core i7
Intel Evo
RAM
8GB, 16GB, 32GB
LPDDR5
8GB, 16GB, 32GB
LPDDR5
Graphics
Intel Iris Xe
Intel Iris Xe
Storage
256GB, 512GB, 1TB
M.2 PCIe NVMe SSD
256GB, 512GB, 1TB
M.2 PCIe NVMe SSD
Display
13.3 inches
1920×1080 (FHD)
16:9 aspect ratio
Touch
Super AMOLED
15.6 inches
1920×1080 (FHD)
16:9 aspect ratio
Touch
Super AMOLED
Inking
S Pen
Included
S Pen
Included
Ports
Thunderbolt 4
Two USB-C
3.5mm combo
microSD card reader
Thunderbolt 4
Two USB-C
3.5mm combo
microSD card reader
Audio
Dual 4W speakers
Smart AMP
Dolby Atmos
Sound by AKG
Dual 5W speakers
Smart AMP
Dolby Atmos
Sound by AKG
Connectivity
Wi-Fi 6E
Bluetooth 5.1
Wi-Fi 6E
Bluetooth 5.1
Camera
Front-facing 1080p
Dual array mic
Front-facing 1080p
Dual array mic
Keyboard
Backlit
Island type
Backlit
3-row numeric
Island type
Security
Fingerprint reader
Fingerprint reader
Battery
63Wh
65W AC adapter
68Wh
65W AC adapter
Dimensions
11.9 x 7.9 x 0.45 inches
(302.5mm x 202mm x 11.5mm)
13.97 x 8.98 x 0.47 inches
(354.85mm x 227.97mm x 11.9mm)
Weight
2.29 pounds (1.04kg)
3.1 pounds (1.41kg)
Colour
Silver
Graphite
Burgundy
Silver
Graphite
Burgundy
Galaxy Book2 Business
OS
Windows 11 Pro
Processor
12th Gen Intel vPro
Core i5
Core i7
12th Gen Intel
Core i3
Core i5
Core i7
RAM
8GB
Up to 64GB
Dual SODIMM slots
Graphics
Intel UHD
Intel Iris Xe
NVIDIA MX570 A
Storage
256GB
Up to 1TB
Display
14 inches
1920 x 1200 (16:10)
Anti-glare
Ports
Thunderbolt 4
USB-C
Two USB-A
HDMI 2.0
Ethernet
3.5mm audio combo
SD card reader
Audio
Stereo speakers
Dolby Atmos
Wireless
4G LTE (Europe only)
Wi-Fi 6E
Camera
FHD + IR
Dual microphones
Security
IR camera
Fingerprint reader
Battery
51.5Wh
Dimensions
12.85 x 8.41 x 0.78 inches
(326.4mm x 213.8mm x 19.92mm)
Weight
3.32 pounds (1.51kg)
Colour
Graphite