Anyone using a consumer Microsoft account can now go completely passwordless. You can now delete your password from your Microsoft account—or set up a new account with no password—and sign-in using other more secure and convenient authentication methods such as the Microsoft Authenticator app, Windows Hello, or physical security keys.
Going passwordless refers to removing your password and using a passwordless method to sign in instead.
Passwordless solutions such as Windows Hello, the Microsoft Authenticator app, SMS or Email codes, and physical security keys provide a more secure and convenient sign-in method.
While passwords can be guessed, stolen, or phished, only you can provide fingerprint authentication, or provide the right response on your mobile at the right time.
Users can still use 2FA by getting a verification code sent to your phone or email to sign in to your favourite apps and services, such as Microsoft Outlook, Microsoft OneDrive, Microsoft Family Safety, and more.
It should be noted that some older versions of Windows, apps, and services still need a password and you should continue to use a password if you use any of the following:
Xbox 360
Office 2010 or earlier
Office for Mac 2011 or earlier
Products and services which use IMAP and POP email services
Windows 8.1, Windows 7 or earlier
Some Windows features including Remote Desktop and Credential Manager
Some command line and task scheduler services.
How to make your Microsoft account Passwordless
First, ensure you have the Microsoft Authenticator app installed and linked to your personal Microsoft account.
Next, visit your Microsoft account, sign in, and choose Advanced Security Options. Under Additional Security Options, you'll see Passwordless Account. Select Turn on.
That's it! Once you've removed your password, you can sign in to your account by approving a notification from the Microsoft Authenticator app.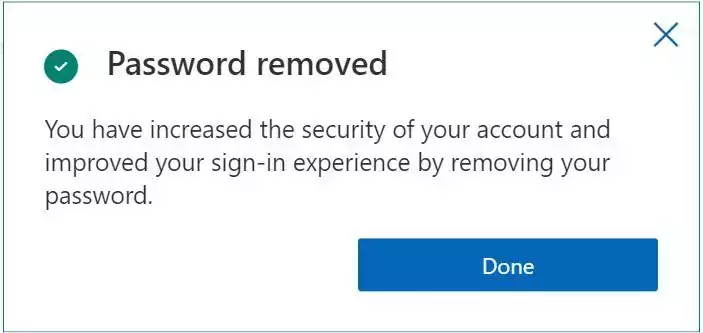 Microsoft will be rolling out the feature over the coming weeks.
If you decide you prefer using a password, you can always add it back to your account.
Microsoft Authenticator