UNest, the family investing app that makes it easy for parents to build a brighter future for their kids, has launched UNest Crypto, becoming the industry's first all-in-one financial solution for parents and kids to offer digital assets.
In addition to the company's existing line-up of managed portfolios, parents can now add crypto to their child's UNest account.
The company recently surveyed its members to gauge their sentiment on digital currencies and 60% of respondents said that they believe in crypto's long-term potential.
Additionally, more than half indicated that they would like to incorporate crypto into their child's portfolio alongside traditional assets such as ETFs.
"We know from speaking with our community that Millennials and younger generations are bullish on crypto," said UNest Founder and CEO, Ksenia Yudina.

"The current system doesn't offer an easy entry point for parents who want to buy digital currencies for their kids. We are changing that by providing a simple on-ramp integrated within our current platform, creating new ways for families to kickstart their children's financial journeys."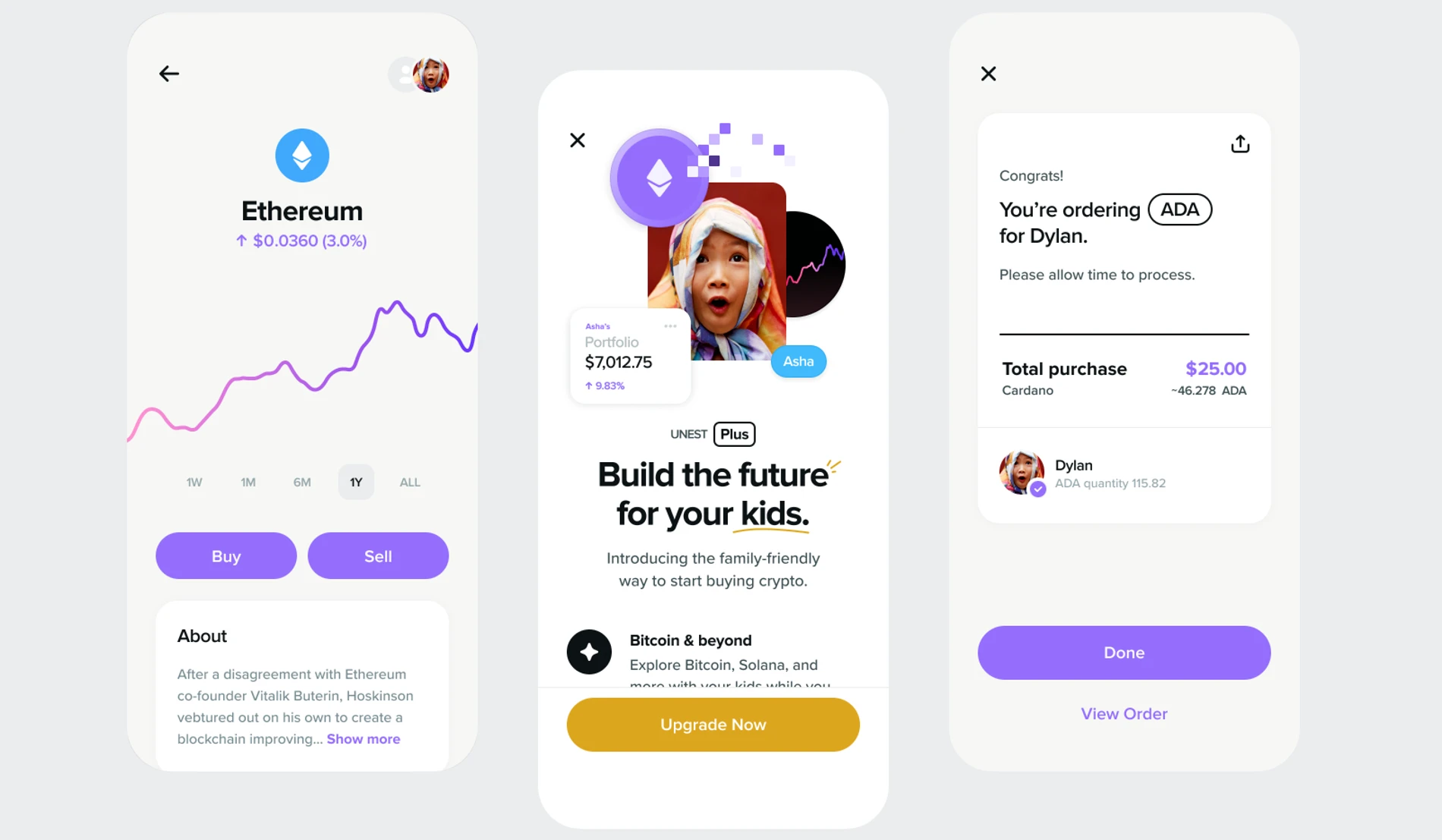 UNest Crypto is a streamlined way for the crypto-curious community to access the burgeoning asset class within UNest's existing offering, marking the first all-encompassing ecosystem for family finances.
Through the app, parents can easily manage their current advisor-guided portfolios, invest in green funds, invite friends and family to contribute to their child's account, earn rewards, and now they have the option of adding crypto to the mix.
The innovative feature allows members to seamlessly choose from a curated selection of 10 popular cryptocurrencies such as Bitcoin, Ethereum, and Solana and they can get started with as little as $5 per month.
The new offering is focused on helping families save and invest responsibly, emphasizing educational resources within the app to empower parents and guardians to make smart financial decisions.
UNest has already helped over 500,000 parents and kids build a lasting financial legacy for their families. With the addition of UNest Crypto, parents now have the opportunity to incorporate digital assets as part of a holistic financial plan.
UNest: Investing for your Kids
Version: 2.28.6
Updated: August 31, 2022
Category: Financial
Requirements: Android 5.0+
Price: Free
Developer: UNest
Contains Ads: No
In-App Purchases: No
Family Sharing: Yes