Vismo, provider of location monitoring and safety solutions globally via smartphones, satellite phones and trackers, will announce upgrades to its Vismo Locate & Protect App on Booth #3411, GSX 2022, Atlanta, Georgia, USA, 12-14th September.
The upgrades include integrated risk intelligence feeds designed to educate and reduce risks for travelling workers anywhere in the world, and a transformed and more intuitive user interface that helps an employer mass notify their staff about risk.
To ensure maximum client value, Vismo is taking an agnostic approach to the sourcing of risk intelligence. The feeds will come from partners such as Riskline, Dataminr and others, to provide warnings about incidents or local characteristics that pose, or might pose, a risk.
As well as sourced risk feeds, Vismo enables an employer to collate and mass notify staff of risks that it is aware of. 
"The aim of sharing intelligence is to improve overall worker safety and be proactive with risk related knowledge so that lone or travelling staff are better prepared," says Vismo CEO Craig Swallow.

"Taking a proactive stance can help build a sense of support and safety amongst the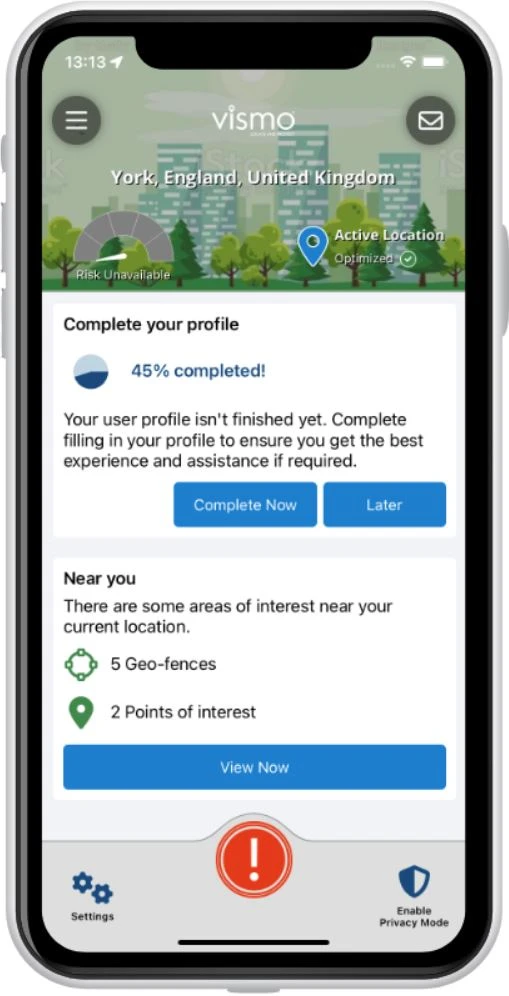 Sharing risk knowledge can be across an organisation's entire user base of the app – employees, contract workers, even volunteers, and administration group or security team – or pre-specified users such as lone workers or travellers in a specific location/region.
In addition to receiving feeds, app users can send information to the admin group or team, about risks they come across or anticipate. The expectation is that when a user reports such a risk, in a specific geographic area, the report may modify the risk rating of that area (city/town/rural/airport etc), for other users of the app who are in its vicinity.
Intuitive User Interface
The Vismo Locate & Protect App's user interface has been transformed with a completely new activity area, shortcut bar and header background.
The activity area houses information and interactive elements related to what the user is currently doing. It also shows points of interest that are close to the user's current location, and other features including geo-fenced areas of risk. 
Additionally, it has a "Complete Your Profile" section, with the aim of encouraging app users to be more interactive and consider risk whilst making the app more personal to each individual user.
A new shortcut bar has been introduced and made cleaner, with the central panic button flanked by two customisable shortcuts (e.g. for check-in, assignments or other Vismo features). The new background header displays iconic images, depending on a user's location.

Updated Panic Button capability 
Vismo has updated the app's panic button capability to improve the user experience. When activated, the app will display a countdown clock on the screen with the device starting to beep and vibrate.
This feature is completely customisable, allowing users to decide how they want the app to behave and for how long they press the panic button before it is activated. 
Once activated, notification of the alert is immediately displayed in the Vismo Secure Portal for the security team (or outsourced monitoring centre) to act upon.
App users will be able to see when the panic alert data has been transmitted to their security team(s) and then acknowledged. Once the alert has been dealt with the app will then show that the alert has now been closed.
Swallow continued:
"Vismo App users, helping them to work more safety and therefore more productively. All the while, their employer is safe in the knowledge they can see staff's whereabouts at any time from the Vismo Secure Portal.

"All the risk intelligence can be shared automatically with travelling staff via the portal,"

"And the portal enables corporate security teams to monitor the locations and safety of employees, providing them with support including advice on how to be safe."
Vismo Locate & Protect
Version: 1.4.9
Updated: July 28, 2022
Category: Business
Requirements: Android 6.0+
Price: Free
Developer: Vismo Ltd
Contains Ads: No
In-App Purchases: No
Family Sharing: Yes