Running off EE's network, HMD Global is now a Mobile Virtual Network Operator (MVNO),. Branded HMD Mobile, the network is rolling out in the UK today. Some of the price plans offered at launch include £15 a month for 10GB data, £18 a month for 15GB and £25 for 25GB. More price plans are expected to be announced in the coming weeks.
HMD Mobile has launched an Android app that gives customers a simple management system to oversee their plan. The app also offers data usage tracking, access to customer support, plan management/upgrades and monthly payments.
HMD Mobile will run on EE's network but will be 4G only at launch, although HMD Global has stated that 5G coverage is planned for the future.
Florian Seiche, CEO, HMD Global:
"We are listening to our fans. We have seen how much they are responding to online shopping and wanted to go one step further. The result is our own independent mobile connectivity service which guarantees transparency, flexibility, and competitive tariffs.

We want our customers to love their phone experience and we are proud to continue to offer a seamless experience to our fans."
HMD Mobile plans are available directly from Nokia.com when purchasing a Nokia smartphone.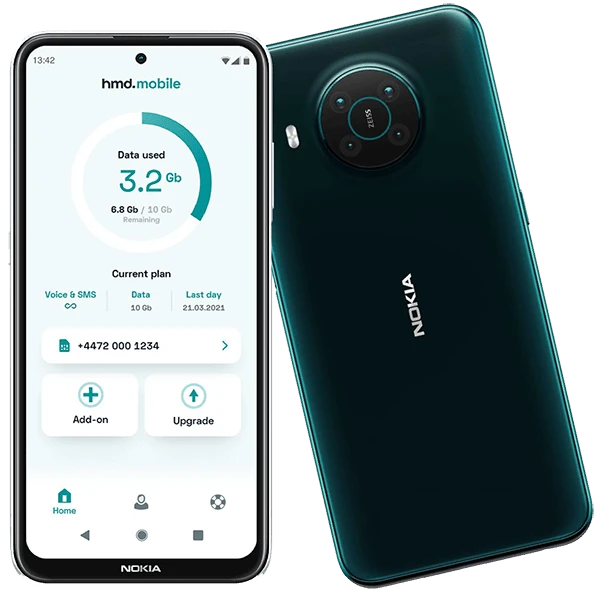 HMD Mobile gives you the choice of a one-month or a three-month plan, you can get connected without getting tied down. You can choose to auto-renew or renew manually at the end of the plan – it's entirely up to you.
Plans on offer are:
10 GB data for £13 a month (launch promotion – £39 for 90 days)
15 GB data for £15 a month (launch promotion – £45 for 90 days)
25 GB data for £23 a month (launch promotion – £69 for 90 days)
Omar Riaz, General Manager, UK, HMD Global said:
"When it comes to data and speed, reliability is critical to customers. Delivering on our promise to democratise mobile technology, we are now able to offer UK connectivity to mobile customers at a truly affordable price without long term commitments.

This announcement will further cement HMD Global's position within the telecoms industry as a company that delivers innovative solutions."